How to backup all apps on your Samsung Galaxy S4? There are many reasons why you might want to backup or restore all apps from your phone. A couple of reasons are that you want to flash a new firmware so a factory reset is required or you are moving to a new phone and don't want to lose any apps you had installed in your previous phone. Backing Up & Restoring can be very easy if you know how to do it correctly.
KIES is a waste of time when it comes to backing up because first of all, it takes a lifetime to install and it never succeeds to fully backup all my apps and messages. There is an easier way to do it (You need root access). This easier way is called Titanium Backup.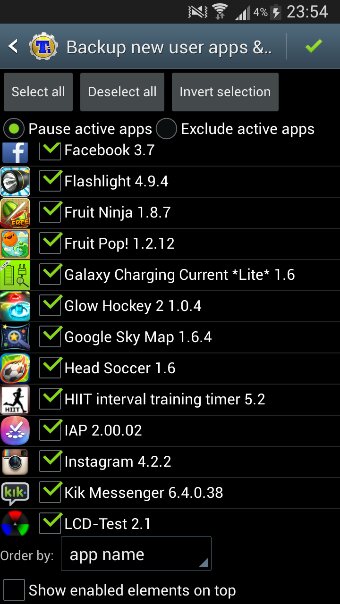 Yes, the best app for backing up apps could not miss this time. Titanium Backup allows you to easily backup every single app you have installed and also makes the restoring process even easier.
To backup your apps, open Titanium Backup. Then press the Menu button and select Batch Actions. Scroll down and press Backup newer apps & newer versions. Then select all apps you want to backup and press the little green button at the upper right hand corner.
To restore these apps, go again to Batch Actions but this time select Missing apps with data. Select all the apps you want to restore and press Run.
Download Titanium Backup here
That's it. You have successfully backed up & restored your apps on your Samsung Galaxy S4.