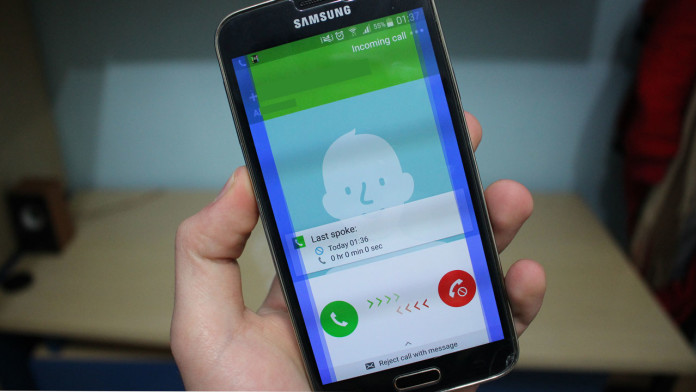 The Samsung Galaxy S6 Edge is the brother of the Galaxy S6. It is exactly the same with the Exynos 7420 processor, Mali-T760 GPU, 3 GB RAM and 16 MP camera. The only difference is that it has a curved display unlike the original Galaxy S6.
However, the curve is not the same as on the Note Edge. The Samsung Galaxy Note Edge has only one curved side and it is very noticeable. On the Galaxy S6 Edge, both sides are curved, even though not as much as on the Note Edge.
The curve expands the room for extra activities and things that you can do with the phone. The Samsung Galaxy S6 Edge has a feature called Colored Notifications. Basically, you can set up to 5 favorite contacts which can be color coded.
If you set the color red to a contact and you receive a phone call from that number, the sides will turn into the red color. You do not have to turn the phone on to see who is calling. The best thing is that you can decline the call by putting the finger on the heart rate sensor.
The colored notification feature has been noticed by many users and many have requested it. Luckily, forgin, a senior member has developed an app which does exactly what colored notifications feature on the Galaxy S6 Edge does. The borders of the phone change color when someone calls you.
At the moment, the app is still in development and supports only phone calls. However, the developer has stated that contacts will be added in a near update.
Download: APK | Play Store
The first thing you have to do is to download the app. You can download the APK directly or from the Play Store. Once you have installed it, launch the app. You have the option to change the size and the color of the border. That is it. Now, whenever someone calls you, the borders will change color, just like the Galaxy S6 Edge.