Follow this guide to learn how to wipe data and perform a full factory reset on the Samsung Galaxy A82 5G (SM-A826S).
Most of the time, the Galaxy A82 5G is a fast and snappy phone. However, there are times when the phone doesn't respond as it should. There are times when the phone becomes slow, apps start to force close and the overall experience becomes bad. If your Galaxy A82 5G is acting the same, then a factory reset will most probably solve the issue.
How To Wipe Data and Factory Reset on the Samsung Galaxy A82 5G
There are many reasons why you should reset your phone. Firstly, Android is known to become slow after a few months of use. As a result, a reboot should be performed from time to time to bring the phone up to speed. However, there are times when a simple reboot does not fix the issue, and the only solution is to reset the phone altogether.
Why reset your Samsung Galaxy A82 5G
The Samsung Galaxy A82 5G has great specifications for its price, and it runs almost everything with no lag. However, the Android system might slow down and decrease the speed of the phone to the point where it becomes unusable. In this case, a factory reset is recommended. A reset will delete everything on your phone including junk and outdated data that might slow down the phone. After a factory reset, the phone will be like brand new and as fast as it was before.
Another reason to wipe data is to escape from a boot loop. An Android phone goes into a boot loop when users install a custom ROM which is different from the old ROM. The only solution to this is to wipe data.
1. Galaxy A82 5G Reset – Factory reset through settings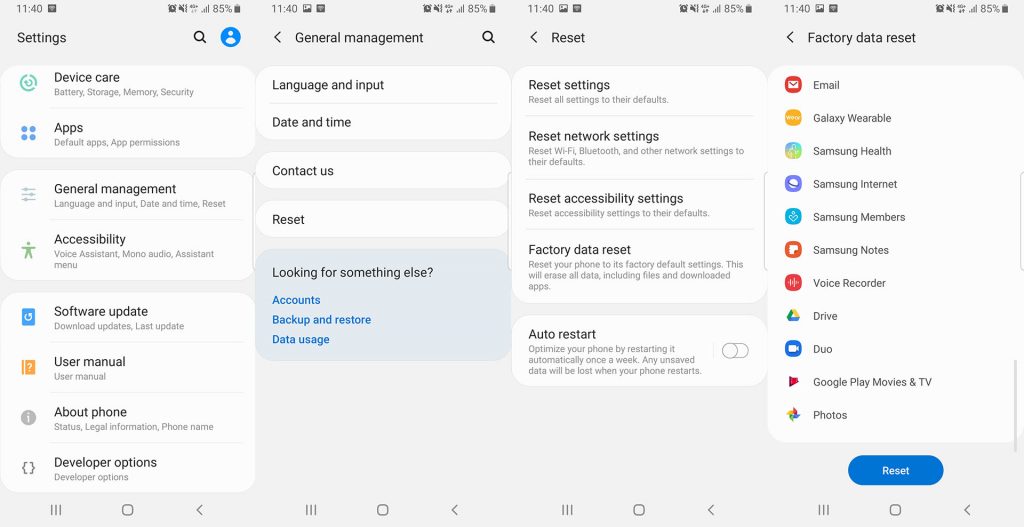 This method is very popular because you do not have to turn off your phone. All you have to do is go to the settings menu and choose the option which deletes everything.
Unlock your phone and go to Settings.
Scroll down and tap on General Management and choose Reset.
From all the options, tap on Factory data reset. The phone will list all the files that will be deleted and all the applications that will be uninstalled.
Tap on Reset.
This will delete everything on your phone, including your Google account, system apps and data, installed applications, music, pictures, and all other user data.
2. Galaxy A82 5G Reset – Factory Reset through Recovery Mode
This method requires you to go to recovery mode in order to wipe data and perform a factory reset. This is particularly useful when your phone is stuck in a boot loop and you cannot reset your phone through the first method.
Press and hold the power button on your Galaxy A82 5G. Tap on Power off.
Once the phone is completely off, press and hold the volume up + power keys at the same time. Keep them pressed until you see the Samsung boot animation logo.
You will see many options in recovery mode. Use the volume up and down keys to highlight Wipe data/factory reset and press the power button to select it.
The phone will ask you if you are sure that you want to delete all the data on your phone. Again, use the volume keys to highlight Yes and press the power button to select it.
All the data from the Samsung Galaxy A82 5G will be erased. Once the reset process is finished, restart your phone. The phone will boot up and it will be like new. It will ask you to go through the setup process.