The Galaxy Note 4 is just about to get released and it has been already tested on the popular benchmark app, AnTuTu. Both versions of the Samsung Galaxy Note 4 have been benchmarked, the Snapdragon variant and the Exynos variant.
The Snapdragon variant has four Krait 450 cores clocked at 2.5 GHz and the new Adreno 420 GPU which based on scores, it is 40% faster than the Adreno 330 GPU found on the Snapdragon 801 chipset.
Also Read: It's Official: Galaxy Note 4 Will Have a 5.7″ QHD Super Amoled Display
On the other hand, the Exynos variant has eight cores, four low power Cortex-53 cores clocked at 1.3GHz for normal power usage and four high performance Cortex -A57 cores clocked at around 2-2.5GHz for heavy tasks like gaming and multitasking.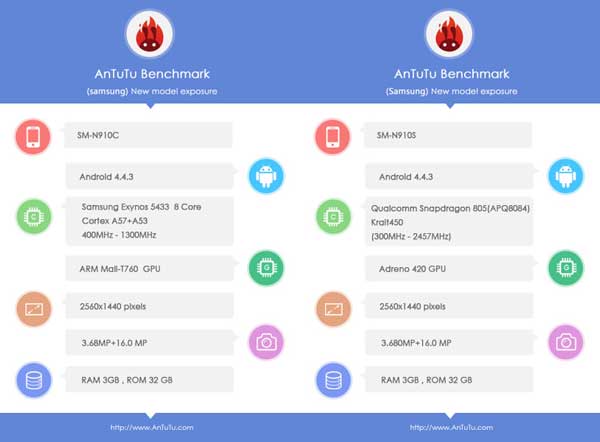 This time, the devices don't give an exact score of their performance but they reveal all other specifications of the Galaxy Note 4. The two variants, besides the chipset, they are pretty much the same.
They will have the same 5.7″ QHD Super AMOLED display with a resolution of 2560 x 1440 pixels, 16 MP rear facing camera with OIS (Optical Image Stabilization), 3.68 MP front facing camera and 3GB RAM.
Also Read: Here's Why The Samsung Galaxy S5 Has The Best Camera for a Smartphone
The Exynos variant is known as SM-N910S and the Snapdragon one is known as SM-N910C. Both of the devices had Android 4.4.3 when the test was made but there is a high chance that they will be equipped will 4.4.4 when they get officially announced.
Even though no official scores are out yet, based on previous scores, there is a high chance that the Exynos variant will perform better than the Snapdragon one.