The Samsung Galaxy S8 comes with plethora of changes, hardware and software-wise. It has a completely different design with a bezelless and beautiful Super AMOLED display, the latest 10nm chip, one of the best smartphone cameras and much more. It is one of the best looking and fastest phones you can now buy.
But the Galaxy S8 doesn't have hardware changes only. The software has changed quite a lot. One of those changes has to do with the Always On display feature. Announced for the first time on the Galaxy S7, Always On is a useful feature which keeps the screen on at all times displaying important updates such as time, notifications and other aspects that you choose to enable.
The Always On feature on the Galaxy S8 has gotten an upgrade compared to the last year's flagship. You can choose to display digital or analog clock, calendar, image or an edge clock.
How To Install Samsung Galaxy S8 Always On Display APK on TouchWiz Nougat and Marshmallow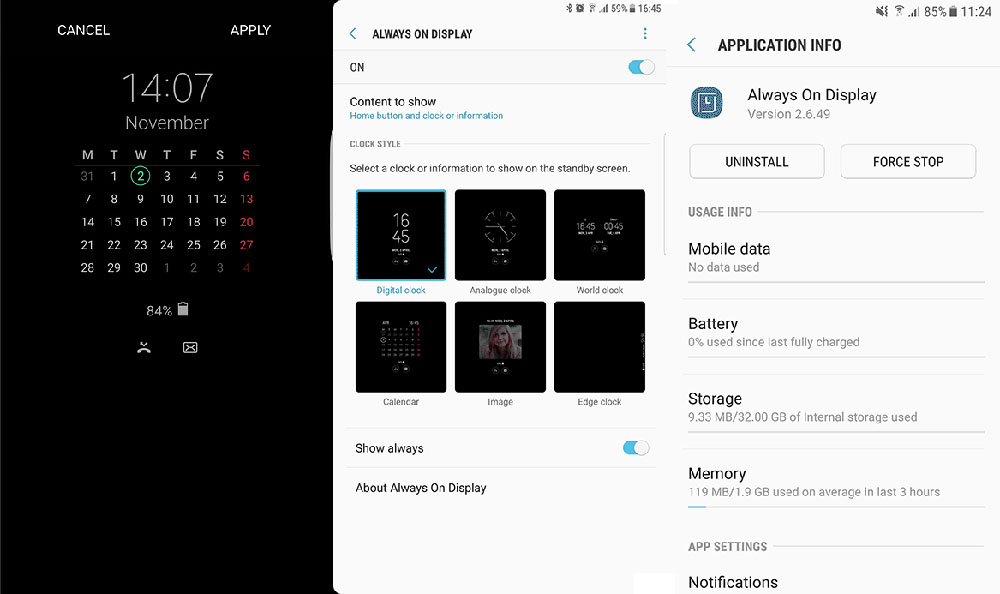 The Galaxy S8 Always On app has been extracted from the system dump of the phone and the APK file can be installed on other Samsung phones. Thanks to users over at the forums, you can install the Galaxy S8 Always On display app on other Samsung phones running on Marshmallow and Nougat, such as Galaxy S7 and S7 Edge. The app can be installed on phones such as Galaxy S6 (edge) or Note 5 but it might not work.
Download Galaxy S8 Always On APK File For Other Samsung Phones
This is the file that you will install on your phone. You don't need root or a custom recovery to install it.
How To Install
Download the file from the link above and move it to your phone's internal memory.
Go to Settings > "Lock screen and security" and enable Unknown Sources if you haven't already. This will allow you to install APK files.
Go to the folder where the APK file is located and tap to install it.
Go to Settings > Display and enable Always On Display.
If it force closes, go to Settings > Apps > Always On Display > Storage and clear data.
Go back to the home screen and turn the screen off. Enjoy the new Galaxy S8 Always On display app on your Galaxy S7 or other Samsung phones. You can customize the user interface by going to Settings > Display > Always On Display. You can select what you want to display and what not.