Latest Sony Xperia Z3 teard down suggests that the upcoming device will be exactly the same as the Xperia Z2, actually worse. Sony decided to go with 6 month cycle. This means a new Xperia flagship device gets released every 6 months. Every other smartphone manufacturer goes with 1 year cycle.
Sony has adapted this method since the original Xperia Z. If you take a look back, you can see that the Xperia Z, Z1 and Z2 look exactly the same. The only difference is the bigger screen, improved internals and somewhat redesigned bezels. Other than that, they are quite the same when it comes to the design.
Also Read: How To Customize & Edit Sony Xperia UI Firmware
Leaked Xperia Z3 tear down photos suggest that it will follow the same trend as other devices. The design is the same with a few changes. Since it is going to be the next flagship device, you expect better and faster internals. In fact, the Z3 has similar or worse hardware specifications.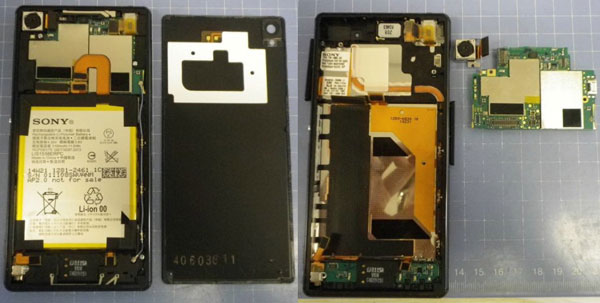 Based from the pictures, it will have a 3,100 mAh battery, which is 100 mAh smaller than the 3,200 mAh battery of the Xperia Z2. As far as processing power goes, it will have the Snapdragon 801 chipset with Adreno 330 GPU.
Also Read: How To Fix Xperia Z2 Overheating Problem (Solutions)
It will have 3 GB RAM and it will be dust proof and water-resistant with the same IP58 certification as its predecessor. As you can see, the Z3 is not going to be a huge improvement over the Z2. But note that these pictures are not official and Sony might release a completely different device.