Enter the contest and win the Sony Xperia Z3, Sony Xperia Z3 Tablet and Sony Xperia Z3 Compact. No, you are not going to win only one of these devices. Sony will give all these devices at the same. This means the winner will get all three devices.
Not only that. Sony will also give a Smartband Talk to the winner. So, a lucky person will get four latest flagship Sony devices. Can you even imagine the price of these devices if you buy them? You can easily enter the contest.
Also Read: Download All 35 Beautiful Sony Xperia Z3 Wallpapers
You only have to answer a few simple questions and then you can submit your answers. Once you send them, you have received an entry to win four Xperia devices at the same time.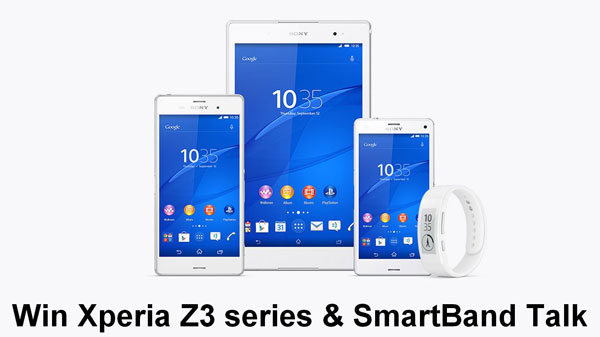 The Z3, Compact and Tablet are Sony's current flagship devices that recently got announced during IFA event. The Z3 has a slightly faster processor, new body design and it is IP68 certified. It is more water-resistant and dust proof than the Galaxy S5 and Xperia Z2.
Also Read: Download Sony Xperia Z3 Sound Pack & Ringtones
The Compact variant has the exact specifications but it has a smaller 4.6″ screen instead of the 5.2″ of the Z3. The same thing with the Tablet which has an 8.0″ Full HD display. Go the official Sony Facebook page and win all Xperia devices.