MultiROM is a multi-boot mode for Nexus 5. It can boot not only stock Android ROMs but also other operating systems like Ubuntu Touch, once they are ported to that device. MultiROM can boot from internal memory of the device and it also can boot from a USB drive connected to phone with an OTG cable. Boot Manger is the main part of MultiROM. It appears every time your device starts and gives you the opportunity to choose a ROM to boot.
Installed ROMs are managed with TWRP recovery. If you want to install a secondary Android ROM, you can use standard ZIP files because MultiROM has its own installer system. It can be used to ship other systems based on Linux. MultiROM allows you to boot as many Android ROMs as you want. You can also boot from a USB cable connected through OTG cable.
Also Read: How To Change Boot Animation Logo on Nexus 5
Installation – MultiROM Manager App
Install the MultiROM Manager App. Download from Play Store. Once downloaded, install the app and select MultiROM and Recovery. If the status card says "Kernel: Doesn't have kexec-hardboot patch!" in red letters, you need to install a patched kernel on the installation process or you can use third-party kernels. The kernel you are selecting is for your primary ROM, not for other secondary ROMs, so select the correct version. Press Install and wait for the installation to finish.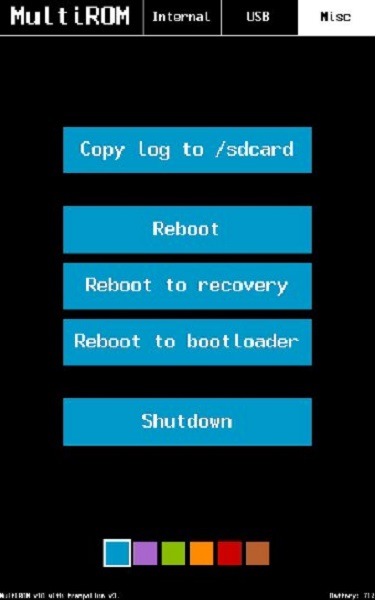 Add ROMs
Go to recovery and select Advanced > MultiROM > Add ROM. Select the ROM's zip file and confirm the installation process.
You have to use the MultiROM Manager app to install it. Ubuntu Touch is in continuous developement so MultiROM must be updated with the future changes of Ubuntu.
Firefox OS is an Android based ROM. Download the zip file here and flash it like a normal Android ROM.
Use USB drive
Recovery lets you choose the location during installation process. So plug the USB drive and wait a few minutes then press refresh. It will show partitions on the USB drive. You just select the location and proceed with the installation (NTFS and FAT 32 partitions are supported). Recovery will ask you to set the image size for all the partitions, this can't be changed easily so chose carefully.
FAT 32 has a maximum of 4095 MB per image. Installation to USB drives take a little bit longer because the flash drive is slower and needs to create the images.
Also Read: How To Root Android L Nexus 5 (Easy Guide)
Update or Change ROM
Flash ROM zip file as usual. If needed do a factory reset. It won't erase the secondary ROM. Go to Advanced > MultiROM  in recovery and do inject curr.boot sector.
You can change the ROM, delete it or add a new one. Go to Advanced > MultiROM > List ROMs and select the ROM you want to update. Select Flash Zip and flash ROM zip file.