The Nexus 6, the phone as a result of the collaboration between Google and Motorola got announced a few days ago. The announcement event happened very quietly, with no news or live streaming.
It was a small event compared to launch events of other flagship devices such as the Samsung Galaxy S5. Galaxy Note 3, iPhone 6 and 6 Plus. The event of the iPhone 6 was so viewed that Apple servers broke and the live stream was very slow, even for Apple users.
Also Read: Why Nexus 6 Rocks And You Should Buy It
The Nexus 6 is the next flagship device from Google. It has a gigantic 5.96″ QHD screen, dual front facing stereo speakers, 3,220 mAh battery, new charging technology and most importantly, it comes with Android 5.0 Lollipop.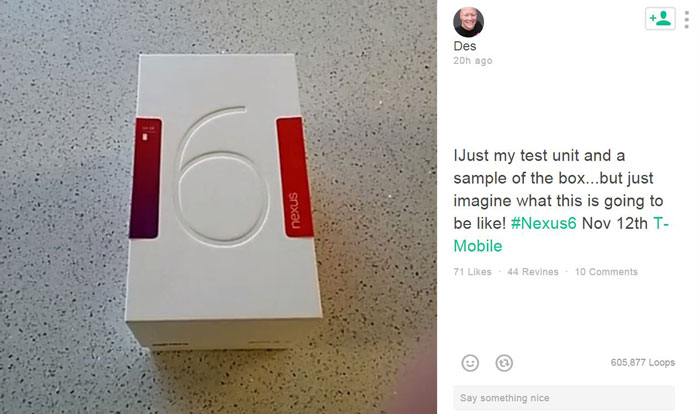 Even though the Nexus 6 got announced only a few days ago, the unboxing video of the phone is already out. Well, kind of. Des, the product guy over at T-Mobile managed to get its own Nexus 6 test unit.
And the first thing that he did was unboxing it and sharing the video with everyone. It is a true unboxing video, it is simply not detailed like you would expect from a real unboxing video.
Also Read: Funny Android 5.0 Lollipop & Nexus 6 Ads
Instead of publishing the video on YouTube, Des uploaded the video on Twitter and Vine. Yes, you get to enjoy Nexus 6 unboxing under 6 seconds. It is a short amount of time but you can see the front and the back and also the phone fully activated and running on the home screen. Also, on thee description of the video Des says that the phone will be available for purchase on November 12th.