How to use and read all sensors on the Samsung Galaxy S5, Galaxy Note 3 and Galaxy S4. These three Samsung devices come with a lot of useful built-in sensors which measure different things. For example, the Samsung Galaxy Note 3 and Galaxy S4 can measure the temperature of the ambient where you are staying, humidity, light level, pressure and also altitude.
No, they don't search the internet for temperature and humidity values. They have a built-in sensor which actually is able to measure those units. It shows the temperature of the room that you are currently staying when reading the sensors. So, we now know what kind of sensors they have. The question is, how to read them?
Also Read: How To Enable Phone Call Recording On Galaxy S
Even though all these sensors are present, it is not very easy to read them. If you are on stock Touchwiz ROM, you can easily read them by going to S Health. The S Heath app has all the information you need. But if you aren't on a stock Touchwiz ROM and you have installed a stock AOSP Android ROM, the S Health app isn't there and you can't read the sensors.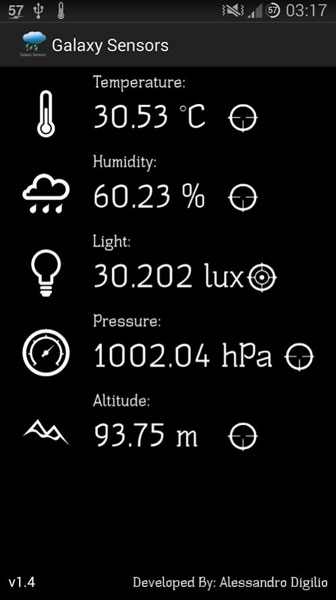 If you are in this situation, S Health is not the only solution. There are other apps you can download from the Play Store to measure temperature, humidity and more on the Galaxy Note 3 and Galaxy S4. Unfortunately, you can't measure temperature on the Samsung Galaxy S5 because it doesn't have the required sensor thanks to the water-resistant body which doesn't allow for a sensor like that.
Also Read: Galaxy Note 4 vs Galaxy Note 3 vs Galaxy Note 2 vs Galaxy Note 1
To read all the sensors, download Galaxy Sensors from the Play Store. It uses everything that your phone has and can read the temperature, light level, altitude, pressure and more. Simply download the app, open it and everything will be automatically displayed.