A few years ago, phones were simple devices used to make phone calls and send text messages. They had no internet connection, no touch screen, no high-resolution displays and no super fast processors to play console quality games.
Throughout the years, phones have evolved a lot. The progress is noticeably bigger these two years compared to evolution of phones 10 years ago. Today, phone are called smartphones.
Also Read: Best 5.0 Lollipop Material Design Wallpapers (Compilation)
Apart from making phone calls and sending text messages, they are able to connect to the internet, play latest video games, capture ultra high quality videos and even receive information about the ambient where we live.
Many years ago, we used to measure the ambient temperature, humidity, pressure, light level and more using dedicated sensors. Today, these sensors are inside our smartphones.
You don't need to have dedicated space-consuming sensors. Your phone has them and you can easily get information about everything. These sensors are used more by apps and programs for different purposes. Games use the accelerometer so the character can be controlled tilting the phone and the light sensor is used for the auto brightness feature.
By default, accessing all sensor data is not very easy on Android. Samsung Galaxy devices have this option by going to Hardware Test menu. If you have another Android phone, then there are plenty of apps you can download from the Play Store.
One of the best apps for this purpose is Sensor Sense. This app gives you detailed information about everything starting with sensors, battery temperature, location and more.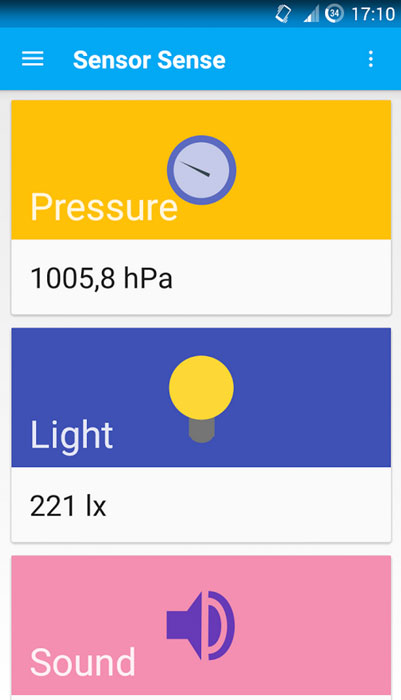 Here is a full list of all sensors that Sensor Sense supports:
Environment sensors
Temperature sensor
Light sensor
Pressure sensor
Relative humidity
Sound sensor
Motion sensors
Acceleration
Gravity sensor
Gyroscope
Linear acceleration
Rotation vector
Position sensor
Magnetic field
Proximity
Location
Longitude, latitude and altitude
Speed and accuracy
Battery
Level, voltage and temperature
Status and health
Recently, Sensor Sense has been updated to version 3.0.3 which brings support for new sensors and Material Design. The application brings the beautiful Material Design layout with bright colors. It supports all phones with Android 4.0 Ice Cream Sandwich and later.
Also Read: Download Gmail v5.0 APK With Material Design (Yahoo & Outlook Support)
Download Sensor Sense with Material Design: Sensor Sense APK