The Samsung Galaxy S5 Mini has just been officially announced by Samsung and it really has "mini" specifications even though it keeps all the features of its big brother, the Samsung Galaxy S5.
Display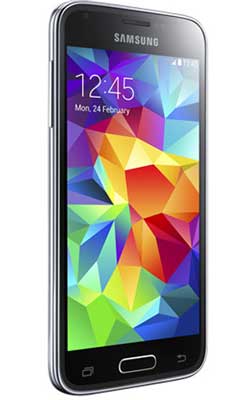 The Galaxy S5 Mini has an improved 4.5″ HD Super AMOLED display with a resolution of 1280 x 720 pixels which brings to a pixel density of 326 pixels per inch which is a noticeable improvement over the Galaxy S4 Mini which had a 4.3″ qHD display with a pixel density of only 256 pixels per inch.
Also Read: Galaxy Note 3 Update Brings Galaxy S5 Apps and Features
Body
As for the body size, the Samsung Galaxy S5 Mini has the following dimensions: 131.1 x 64.8 x 9.1 mm. It is slightly thicker than the Galaxy S4 Mini which is only 8.9 mm thick. The S5 Mini keeps the same body language as the Samsung Galaxy S5 with a dotted leather-like back cover. It comes in four colors: White, Black, Blue and Gold.
The device is IP67 certified which means it is dust-proof and water-resistant up to 1 meter for 30 minutes. One thing that is different about the Mini is the USB cover. Unlike the original Galaxy S5 which has a USB 3.0 port and a cover which prevents water from getting in, the S5 Mini has a USB 2.0 port and no protective cover. This time, Samsung has used a special coating which prevents water from getting into the phone. It is the same coating which is used on the 3.5 mm head phone jack.
Performance & Software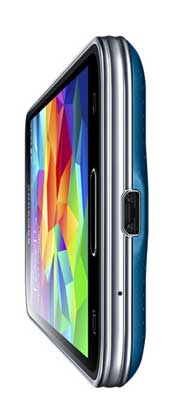 The Galaxy S5 Mini has a quad-core processor clocked at 1.4 GHz, 1.5 GB RAM and it comes with Android 4.4.2 KitKat. The firmware has all the Galaxy S5 features including Kids Mode, Ultra Power Saving Mode feature and S Health. It also has a fingerprint scanner, a heart rate monitor on the back and an IR blaster on top. The battery is 2100 mAh big which is a decent size for a "Mini" device.
Camera
The camera is still 8 MP and can record 1080p Full HD videos at 30 frames per second. While the camera is the same as on the Galaxy S4 Mini when it comes to megapixels, the sensor quality is noticeably better and offers sharper and better photos. The front-facing camera is 2.1 MP which is also able of recording Full HD videos at 30fps.
Also Read: How To Check Samsung Galaxy S5 CPU & Battery Temperature
Price and Availability
As for the price, the Samsung Galaxy S5 Mini is expected to carry a price tag of $650 which is around €479 and it will be available from early July.