Every time a new flagship device gets released, it is a tradition to make a drop test of the phone to see how durable and tough it is. Different tests have different methods of dropping the phone but usually it is three drops: Back, side and front facing drop.
The Samsung Galaxy Note 4 is the latest phablet from Samsung. It is a true beast as it has a powerful Snapdragon 805 chipset, gorgeous 5.7″ QHD display with resolution of 1440 x 2560 pixels and the highly requested metal steel frame.
Also Read: Galaxy S5 Survives After Being Burned With Gasoline
The Galaxy Note 4 is the first flagship device to have steel frame after the Galaxy Alpha. It is said to be more durable and tougher than plastic frame that  is found on previous devices. But the Galaxy Note 3 and Galaxy S5 that have plastic frames did very well on their drop tests. How does the Galaxy Note 4 performs?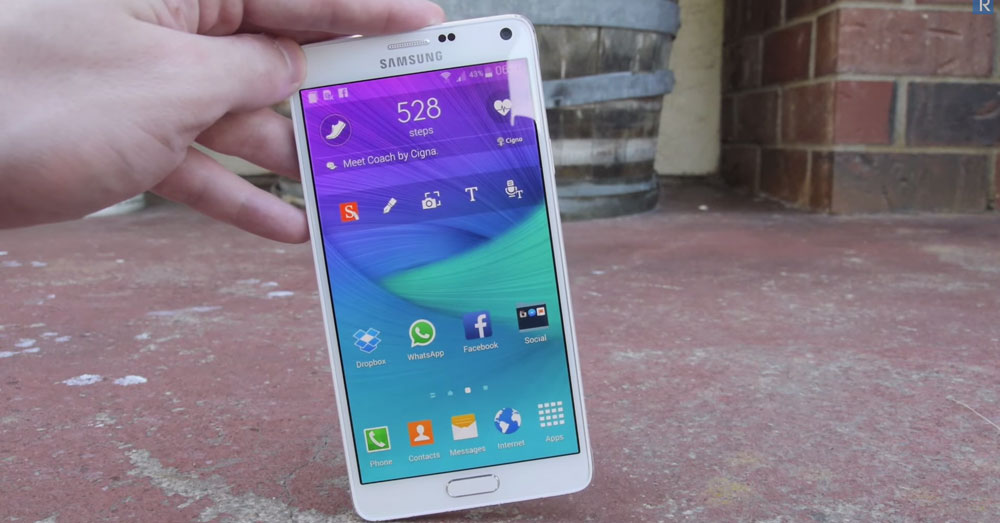 On this drop test, the phone gets dropped from two different positions. The first one is side drop test. As expected, the phone screen doesn't crack but the bezel gets damaged a lot. The entire bottom part of the phone is full of dings and scratches but the phone works fine.
The second test consists of dropping the phone face down. At first look, it doesn't look like the screen gets cracked but when the user picks up the phone, the screen is actually shattered.
But it isn't as bad as other devices. The Note 4 screen got shattered only on the top part while the middle and bottom section were intact. The screen didn't do any weird stuff like the LG G3 did.
Also Read: Will It Blend – iPhone 6 Plus vs. Galaxy Note 3
There is something with Note devices that make them very durable and strong. The Galaxy Note 3 survived the bend test and on the drop test the screen didn't shatter at all.