Samsung Galaxy Alpha battery life test and results. Does it have a good battery life? The Galaxy Alpha is Samsung's hottest device at the moment because it is the first phone to have metallic parts. A metallic Samsung phone has been requested for years now from Samsung and non Samsung phone owners.
The Galaxy Alpha has all the specifications to be a direct competitor to the iPhone 6. It has good screen, high quality body materials and fast processor. The only thing which is worrying  a lot of users is the battery life. The Alpha only has a 1860 mAh battery which by today's standards is very small.
Also Read: Why You Should & Shouldn't Buy Samsung Galaxy Alpha (Reasons)
Other Android flagships have batteries over 3000 mAh. Even though the Galaxy Alpha has a small 1860 mAh battery, it has an advantage that no other phone has. The octa-core variant of the Galaxy Alpha has the  Exynos 5430 20 nm chipset. It is 8 nm smaller than other chipsets and this should give better battery life even with a small battery.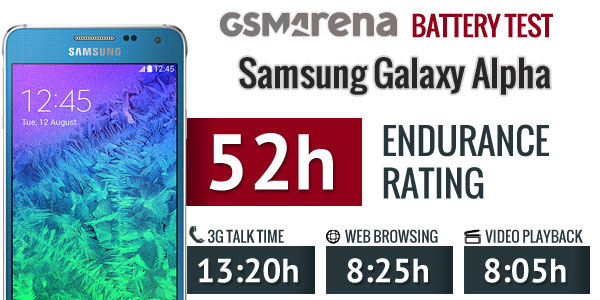 The battery life test has been done on the Samsung Galaxy Alpha and the results are out. Unsurprisingly, the results are good but not as much as expected. It scored 13 hours and 20 minutes in Talk Time test, 8 hours less than the Galaxy S5 but 1 hour more than the Galaxy S5 mini.
It didn't do too well on the browsing test. It got 8 hours and 25 minutes, 1 hour less than the S5 and 5 hours less than the S5 mini. The web browsing test wasn't any better for the Alpha. It managed to get 8 hours, 3 hours less than the S5 and S5 mini.
Also Read: Download All Beautiful Galaxy Alpha Background Wallpapers
Overall, the Galaxy Alpha received a decent score on the battery life test. The small battery is one of the weakest points of the phone and the 20 nm chipset doesn't really help a lot.