Is your Samsung Galaxy A82 refurbished or brand new? This is a question that you should ask yourself the moment you buy this phone. It does not matter where you buy it, be it a third-party reseller or from official company stores, it is always a good idea to check if the phone you have bought, in this case, the Galaxy A82, is refurbished or new.
What are refurbished phones?
If you just want to check if your Galaxy A82 is refurbished or not, skip this part and go straight to the next part of the article. However, it is good to have an idea of what a refurbished phone is, and whether it is a big deal or not.
In the simplest of terms, a refurbished phone is a device that has been sent back to the store due to a particular issue. For example, a customer buys a brand new phone, uses it for a certain period of time, and then the phone develops a problem. The customer sends the phone back to the store to get it fixed under warranty. Once the store receives the faulty device, there are cases where it makes more sense to give the user another phone, instead of trying to fix the issue in a timely matter.
The store then takes these faulty devices and repairs all of them to put them back for sale. Before the phones are put back in sale, they are all thoroughly checked that everything is working fine, including the screen, battery, charging port, motherboard, and everything else. These phones that are being sold for a second time are called refurbished phones.
Essentially, refurbished phones are devices that have been sent back because of an issue, repaired, and then put back for sale.
How to check if your Samsung Galaxy A82 is refurbished?
Refurbished phones are usually cheaper than brand new handsets, and sellers are obligated to specify that the phones being sold are refurbished. However, there might be stores that try to make a profit by selling refurbished phones by marking them as new. As a result, it is always important to check if your phone is refurbished or not, especially if you haven't bought the device from a reputable store.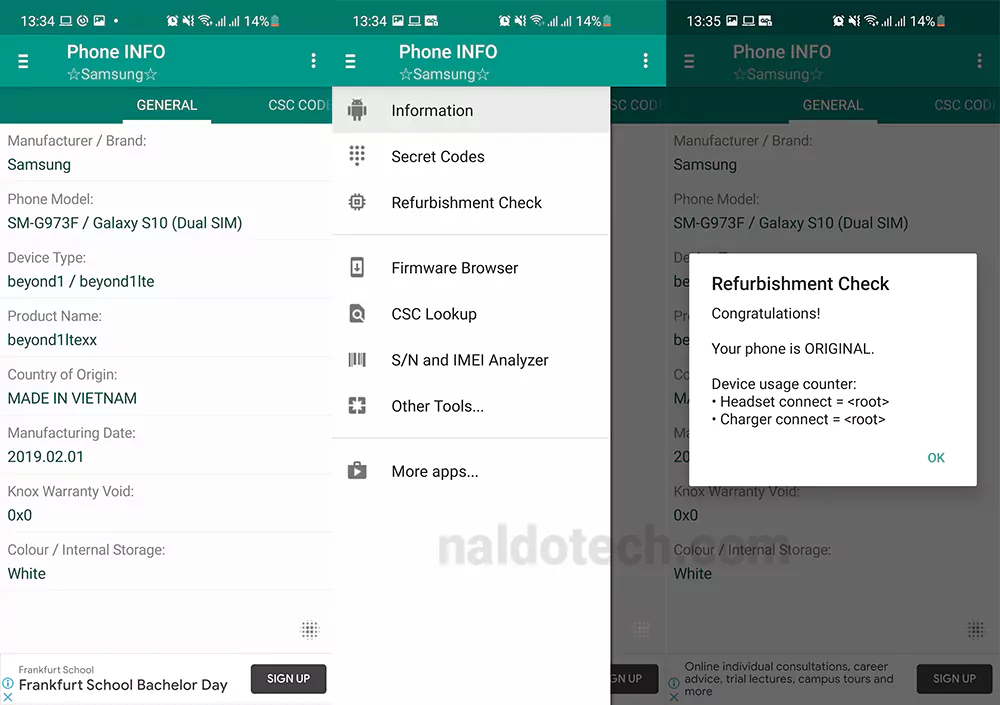 Luckily, it is very easy to learn if your Galaxy A82 is refurbished or not. Here's how to do it.
Open Google Play Store and download an app called "Phone INFO". This is a popular app for Samsung phones that shows different statistics and details about your phone such as the CPU, camera module, phone model, firmware, and also Refurbishment status.
Open the app once installed. You will see few different tabs such as General, CSC Code, Firmware, and more.
Tap on the three small lines on the top left corner of the screen and tap on Refurbishment Check.
The app will scan the phone and will display the result.
If it says "Congratulations! Your phone is ORIGINAL", well, your phone is brand new. But if it says that your Galaxy A82 is not original, then it is refurbished. In this case, it is a good idea to talk to the store that sold you the phone.