It has been a difficult week, but the wait is finally over. The first root method for Google's flagship phones, Pixel and Pixel XL, is out. Chainfire has just released a detailed guide to root Pixel and Pixel XL on his Google+ account.
Google Pixel and Pixel XL are the first devices to come with Android 7.1 Nougat out of the box. Android 7.1 itself offers new features that many users want, but on Pixel phones, it means a different disk partition scheme. There are two of several Android partitions, system, boot and vendor, the recovery and cache partitions are gone and the root / directory is now part of the system partition. Also, Google has replaced full-disk encryption with file-based encryption.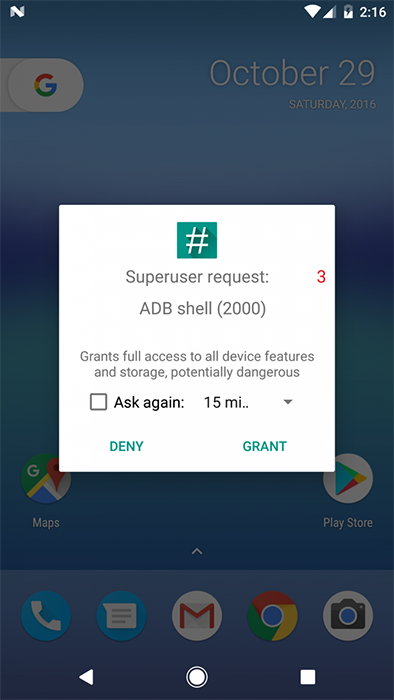 Google says this makes software updates easier and much less of a hassle, but this also means developers can't use the popular methods to gain access to the bootloader.
On his Google+ post, Chainfire has explained that gaining root access on Pixel devices wasn't an easy thing to do, and the software is not stable yet. A few apps might not work with Pixel root because of the way Android 7.1 is designed.
Nonetheless, the guide below will help you to download what you need in order to root Pixel and Pixel XL phones on Android 7.1 Nougat and install SuperSU.
How to root Google Pixel and Pixel XL Android 7.1 Nougat
Download
Tutorial
Make sure to enable "Developer Options" and enable OEM unlocking.
Turn off the phone and hold the volume down and power buttons to go into bootloader mode.
Run the following code (will wipe your phone):

fastboot flashing unlock

Extract the archive file from the link above.
Put the phone into bootloader mode and run the following code:

fastboot boot boot-to-root.img

Wait a few minutes. The phone will restart a few times.
Once the phone boots up, you will have a fully rooted Google Pixel or Pixel XL, running on Android 7.1 Nougat with SuperSU installed. If you have any questions, leave a question below. Also, check out the detailed Google+ post by Chainfire.