How to remove the 5 minute 4K UHD video recording limit on the Samsung Galaxy Note 4 and increase it from 5 minutes to 20 minutes. The Galaxy Note 4 is the phablet that everyone was waiting for.
After the huge success of the Samsung Galaxy S5, Samsung had to create an even better phone with the Note 4, and that's what the South Korean giant did. It improved the battery, display, added more multi tasking features and included premium aluminum materials.
Also Read: Improve Samsung Galaxy Note 4 Camera Quality (Photos and Videos)
One of the biggest features of the Samsung Galaxy Note 4 is undoubtedly the camera. It features a high-resolution camera with a 16 MP sensor. Even though mega pixels aren't everything, the Note 4 camera can record 4K UHD videos.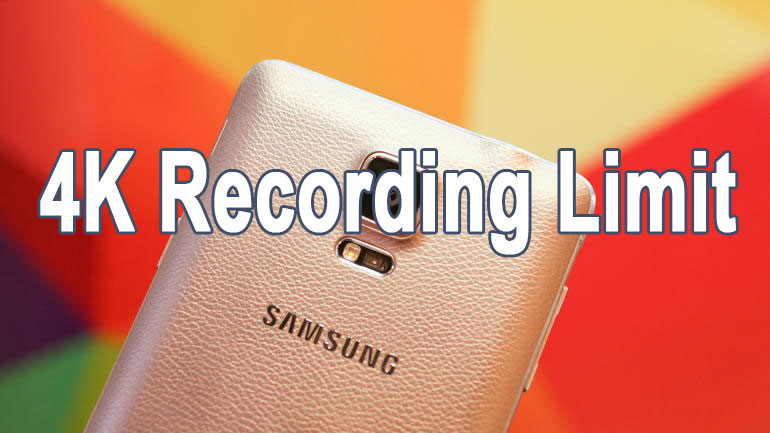 Videos recorded in 4K UHD resolution are a lot sharper and better than videos recorded in 1080p Full HD resolution. One downside of recording videos in 4K is file size.
A 4K video takes more space than a 1080p video and that is not a good thing, especially if you have the 16 GB variant of the Samsung Galaxy Note 4. Because videos take so much memory, Samsung has limited recording time to only 5 minutes. So you cannot record more than 5 minutes of 4K videos.
If you want to record 4K UHD videos for longer than 5 minutes, don't worry. You can easily extend recording limit to 20 minutes or even more using the Note 4 camera mod.
The Note 4 camera mode increases recording limit from 5 to 20 minutes and also improves video quality by increasing bit rate. Here's how to install the mod in order to remove the 5 minute recording limit.
Download the mod here. You can download the Exynos or Snapdragon variant based on what chipset your phone has.
Install custom recovery on your Samsung Galaxy Note 4 (tutorial).
Boot into Recovery and flash the Note 4 camera mod.
Wipe cache and reboot your phone.
Also Read: How To Remove Galaxy Note 4 S Pen Air Command Pop Up
Once the phone has fully booted up, open the camera app and start recording 4K videos. You are no longer limited to 5 minutes.