Recently, Snapchat introduced a new feature called Discover. Snapchat has gathered huge popularity since its release on 2011 and it has no intention to stop. The new feature called Discover takes place on the Snapchat app along user "Stories". A couple of years back, Snapchat was a simple service used to send and receive messages which disappeared in just a few seconds.
Later on, the increase in popularity required new features, one of them being the ability to send text messages and another one being "Stories". Each person can create and post their own stories. The unique feature about stories is that you can watch them for as many times as you want for 24 hours. After one day, they get deleted and new stories take the spot. The latest service, Discover is similar to Stories expect they are posted by popular companies instead of usual users.
These stories are created and published by well-known companies such as Yahoo News, National Geographic, People, Vice, Daily Mail and CNN. They last for 24 hours and then they get replaced with fresh stories the other day. While this might seem like a good feature because you get updated about the latest news, many users have reported issues. There are no functional issues with the feature. Users have reported extremely high background data usage. Since the news are frequently updated, the app uses a huge amount of background data, be it mobile or WiFi data.
Users have reported some interesting statistics to support the problem. Before the update, the app would use around 100 MB of data. After the update, the app uses much more, sometimes using 1 GB and even 20 GB of data. This means that if you are on 3G or 4G, say goodbye to your contract or plan as all the megabytes will be used by the new Snapchat app. If you are using an Android phone, there are a few methods and ways to solve the Snapchat big background data usage issue.
Restrict background data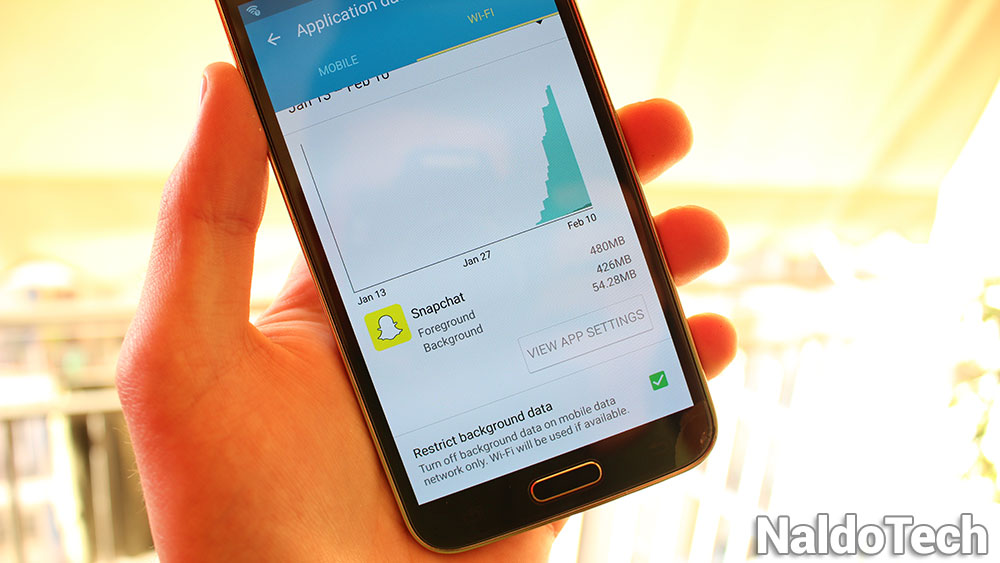 On Android, there is the option to restrict background data for certain apps. This option turns off background data on mobile data only while WiFi will still be used.
Unlock your phone and go the to settings app.
Go ahead to Mobile Data and select Data Usage.
There, either select Mobile or Wi-Fi (both are the same) and find the Snapchat app.
Open the app, scroll to the bottom and enable "Restrict background data".
Downgrade Snapchat version
The Discovery feature is enabled only if you update the app to the latest version. If you have already done so, you can uninstall the current app and install an older version. The latest version which does not have the Discover feature is 8.1.2.
Download Snapchat 8.1.2 APK: Link
The app is safe to install as it has been signed by Snapchat which means it does not have any modified code. Navigate to the download folder and install the APK file as a normal app.