Samsung has updated the Samsung Galaxy S10 and Note to the latest version of its custom One UI skin. The current version number is One UI 2.1 and can be downloaded right away as an OTA update, or manually if the update has not arrived on your phone yet.
One UI 2.1 is Samsung's latest skin version. It was released for the first time on the Samsung Galaxy S20 and Galaxy Z Flip, and now it is making its way into last year's flagships. The company is trying hard to move away from its previous skins, namely the infamous TouchWiz skin, and Samsung Experience.
The One UI 2.1 changelog is long and comes with a number of changes and improvements.
One UI 2.1 Changelog
AR Emoji: It now features a manual editing feature and can recognize more facial expressions.
Camera: New filters and modes have been added to the camera app such as Single Take, Pro Video, AR Zone, My Filters, Selfie Tone, and nighttime timelapse. Pro Video mode is particularly useful because it allows users to have complete control over video settings when recording a video. Furthermore, Samsung has added a new mode that allows users to record in FHD or UHD 4K video at 60 fps.
Gallery: Similar images are grouped together for a better viewing experience. There is a search feature that allows you to search for a photo-based on the time or the place the photo was taken.
Samsung Keyboard: Multilingual transition feature has been implemented and you can search for stickers and emojis at a time.
Quick Share: Allows Samsung phones to quickly share information between them.
Music Share: Allows you to share music with a friend using a Bluetooth speaker.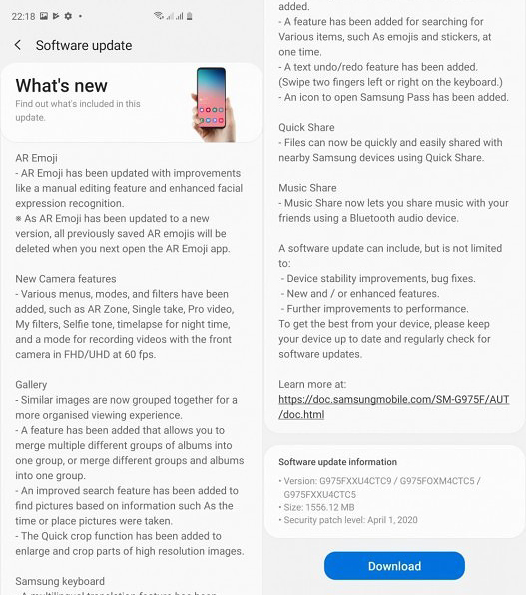 How to update Galaxy S10 & Note 10 to OneUI 2.1 Firmware
The One UI 2.1 update comes in the form of an OTA. Samsung is first releasing the update to users in Germany and Switzerland and eventually will roll it out to more regions. If you live in one of the supported regions, check for an OTA update and install it.
Open the notification panel and tap on the settings icon.
Scroll all the day down and tap on Software Update and then tap on Download and install.
The phone will start checking for updates. If it finds a new OTA, download it. Wait for the file to be downloaded and then tap on Install Update.
If the phone says that the software is up to date, there is an alternative. You can manually download the official One UI 2.1 OTA ROM in a zip file format and then flash it on your Galaxy Note 10 and S10. Check out this detailed tutorial on how to use Frija. Frija is the successor of SamFirm, and lets you download any Samsung firmware files.