Samsung has started releasing the One UI 3.0 Open Beta to Galaxy Note 20 and Note 20 Ultra users in India and Germany. The beta firmware is already available in other regions. The Galaxy Note 20 One UI 3.0 program is already up and running in the UK, the United States, and Poland.
India and Germany are the next countries in line for the beta program. Samsung has opened One UI 3.0 Android 11 registrations for all users in the Indian and German regions. This is an open beta, meaning that users do not have to wait. The OTA (over the air) update notification should appear immediately after the registration.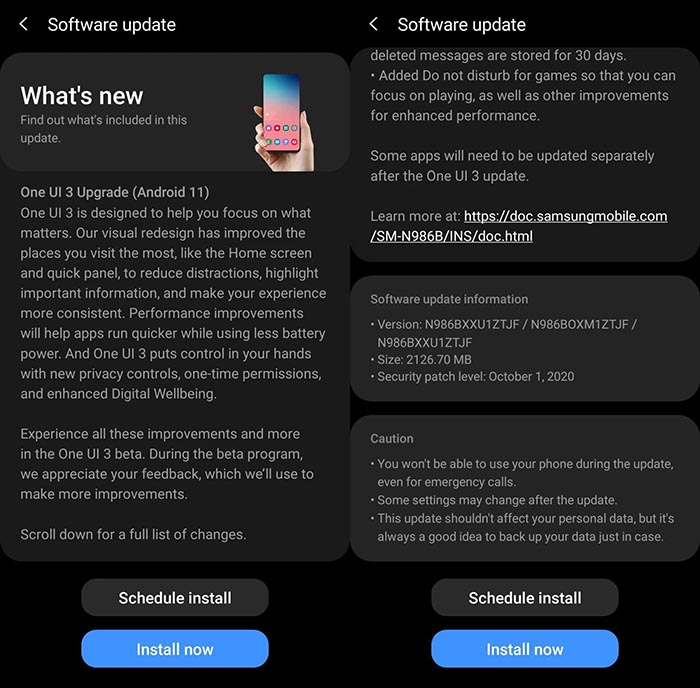 List of eligible Note 20 variants for the One UI 3.0 Beta Program (India/Germany)
The firmware version is ZTJF and can be installed on both variants of the Galaxy Note 20.
Samsung Galaxy Note 20: N981BXXU1TJF | N980FXXU1TJF
Samsung Galaxy Note 20 Ultra: N986BXXU1TJF | N985FXXU1TJF
How to apply for the Galaxy Note 20 One UI 3.0 Beta Program in India?
There are two ways to receive the update. The first one is through the Samsung Members app, and the second one is by downloading the OTA file and manually installing it.
One UI 3.0 Beta Program – Samsung Members
Samsung has made it very easy to apply and enroll in the One UI 3.0 Open Beta program. You do not need anything special besides Samsung Members, an app that comes pre-installed. If for some reason you cannot find it, you find it on the Google Play Store.
If you already registered into the previous pre-beta program, all you have to do is to go to Settings > Software Update > Download and install. But if you are not registered, however, there are a few easy steps you have to take.
Download Samsung Members if you haven't already done so. Open the app, and tap on the little bell icon at the top. Under Notices, there should be a new banner inviting you to enroll in the program. Tap on the banner and follow the steps provided there.
One UI 3.0 Beta Program – OTA file and firmware
If you have a little more technical knowledge, you can download the OTA firmware and manually flash it on Galaxy S20. This is the best way of updating to One UI 3.0 if the official OTA does not arrive on your device. We will publish download links as soon as the files become available.