Which phone had the best one-handed operation mode, the Samsung Galaxy S5 and the Galaxy Note 4 or the iPhone 6 and 6 Plus? All these smartphones have huge screen sizes. The Galaxy Note 4 has a 5.7″ screen, the Galaxy S5 has a 5.1″ screen, the iPhone 6 has a 4.7″ screen which is a huge difference from the 5s.
And iPhone 6 Plus, which is considered a phablet has a 5.5″ screen. The biggest screen size ever for an Apple device. So, here is the list of the devices sorted by screen size.
Samsung Galaxy Note 4
iPhone 6 Plus
Galaxy S5
iPhone 6
Also Read: How To Get Apple Watch Theme On Android Wear Watches
Obviously, these devices don't have the same screen size but they have something in common: they have huge displays. Everything above 4.5″ is considered as too big to be used with one hand. That's why these devices have one-handed mode operation feature which makes it easier for the person to use the phone. But the Galaxy and iPhone don't have the same method of making it easier to use a big screen phone.

On the iPhone 6 and 6 Plus you double tap the home button. You don't have to press it, you simply need to touch it and the fingerprint sensor will recognize it. After you have double tapped the home button, half of the screen will go down and the top of the screen will be on the middle of the phone so you can easily reach everything that can't be reached by the finger. But once you press something on the phone, the screen will go back to normal size.
On Galaxy devices it is different. You have to activate the mode from Settings and then you  have to slide your thumb from the edge of the screen to the middle and back in one quick motion. This will make the entire screen smaller so you still have access to everything for as long you want. Unlike the iPhone 6, everything is smaller and it doesn't get big when you tap on something.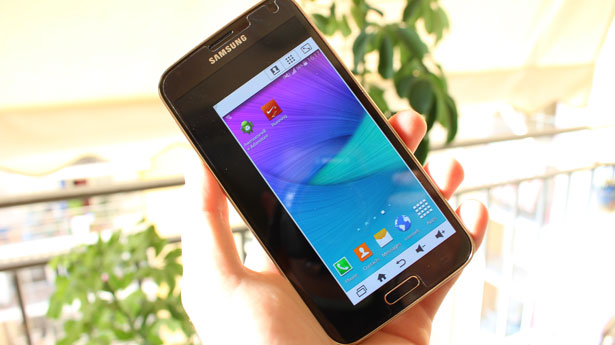 You can resize the small window to make it fit in your hand and at the bottom there are virtual Volume Up and Down buttons, Home, Recent Menu and Back keys making it easier to do basic functions. You don't have to use the other hand to reach hardware buttons. You can also access your most used applications and recent contacts.
Also Read: How To Make Android Facebook Browser Faster (Ultimate Solution)
Overall, one-handed mode on the Samsung Galaxy S5 and Note 4 has more features and it is more flexible because you can resize the window. On the iPhone, there isn't really much you can do.