It is now official. A better variant of the Galaxy S5 has just been announced from Samsung and it has a gorgeous 5.1″ QHD Super Amoled display with a resolution of 2560 x 1440 pixels and a ppi ratio of around 560 pixels per inch. This is the second QHD display in the market after the LG G3 and it is the most dense display when it comes to pixel per inch ratio because the LG G3's display is 0.4″ bigger.
Besides the higher resolution display, the new Galaxy S5 has the new Snapdragon 805 chipset with four Krait CPU cores, each clocked at 2.5 GHz and the Adreno 420 GPU, the fastest GPU up to date on mobile markets. The Galaxy S5 becomes the first device with this type of processor being the fastest smart phone on the market.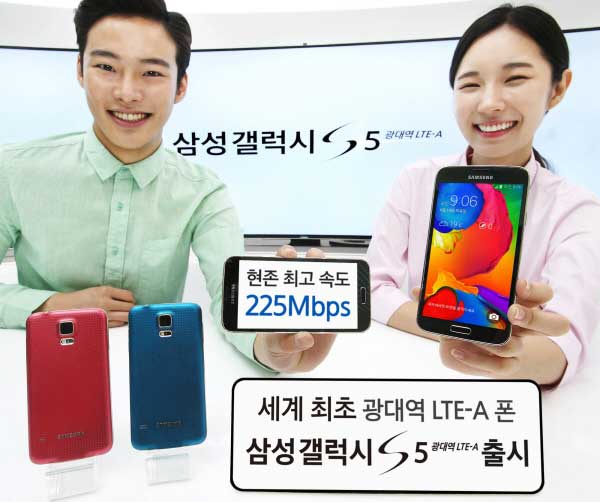 Other noticeable improvements are the 3G RAM instead of 2G RAM and faster LTE chip. The new Galaxy S5 is called Galaxy S5 LTE-A because it features the new LTE Advanced technology which delivers  three times faster internet speed than the standart LTE.
The Samsung Galaxy S5 LTE-A doesn't have the metallic body that everyone is waiting for but that is reserved for the Galaxy F (S5 Prime).  As usual, the S5 LTE-A comes in five color variants: Blue, White, Black, Gold and Red.