Leaked photos of the upcoming Motorola Moto X+1 which appear to be the official design have surfaced on the internet. The popular leaker known as Evleaks has posted his last smartphone leak and it is the successor of the Motorola Moto X, the Moto X+1
Evleaks is the popular leaker who has leaked information and pictures of phones that were yet to be released. And most of the times, all the photos were true and devices were exactly the same as Evleaks had claimed. The best example is LG G3 leaked picture, which turned out to be the real LG G3.
Also Read: How To Update Moto X To Android 4.4.4 KitKat & Improvements List
But Evan, the real name of Evleaks retired a few days ago because of health problems. But today, Evan gave us the last leak as a retirement gift to us. The photo shows 2 variants of a Motorola device which might be the Moto X+1.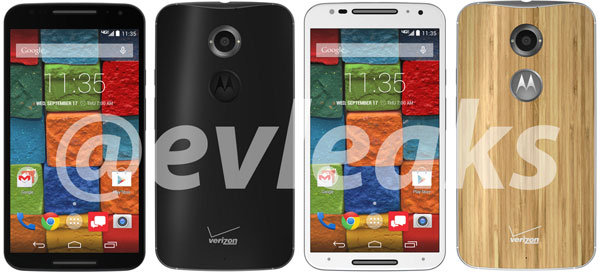 The first variant is the black color with matte finish and the second variant is the white color with bamboo wood cover. Some noticeable changes over the Moto X are the dual front facing speakers, bigger screen and a new camera with two small LED lights on the sides of the sensor.
Also Read: How To Beat Swing Copters & Get Better High Score
One interesting change is the Motorola logo. The logo looks a lot bigger than the logo of the Moto X. In this photo, the logo is the same size with the camera sensor. The Motorola Moto X+1 is expected to get released on early September along the Moto G2 and Moto 360.