Nova launcher has been updated and now it has full Android 5.0 Lollipop theme with Material Design animations, icons and white app drawer.
Android 5.0 Lollipop is now available on many devices, even though unofficially. Custom ROMs based on 5.0 Lollipop are available for some of the most popular devices and they all have the new launcher with the white app drawer.
Also Read: Download Samsung Galaxy Note 4 Touchwiz Launcher APK
Most of users will be happy with the stock launcher. It is fast, smooth and the user interface is clean and simple. But other users would like more features and options. The stock launcher is fast and smooth, but it is very limited in terms of customization and options.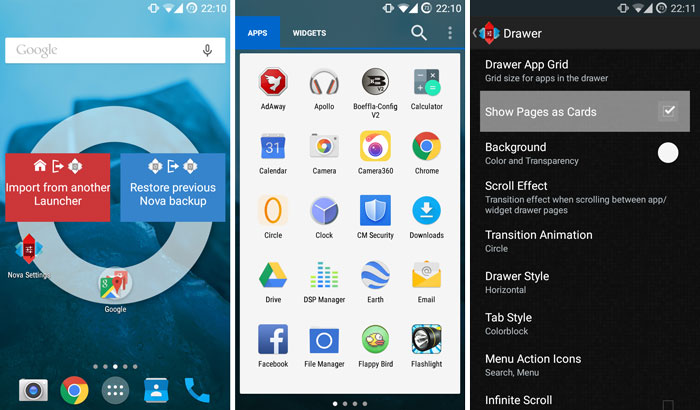 If you are one of those users, then the new version on Nova launcher is the solution for you. Nova is the most popular launcher for Android with millions of users. It is similar to stock Android launcher but it is has tons of options that the stock app doesn't have.
The app has been updated to version 3.3beta1. This update brings the long-awaited 5.0 Lollipop theme with Material Design. The app drawer is finally white and all Lollipop animations are present.
Nova launcher v3.3beta1 is the best solution if you want to have enhanced stock Android launcher with tons of features and settings.
Download Nova launcher with Lollipop theme: 3.3beta1
Also Read: Android 5.0 Lollipop Launcher, Apps, Keyboard APK, Wallpapers, Fonts, System Download and Install
Download the file and install the launcher. To enable white app drawer, go to Nova Settings > Drawer and enable the Show Pages as Cards option.