Download and install LRX21P Android 5.0 Lollipop factory image on your Nexus 7 (2012) variant. While everyone is waiting for Google to release official factory images for the Nexus 5 and Nexus 7 (2013), an Android 5.0 Lollipop image has leaked for the 2012 tablet.
It is strange seeing the old Nexus tablet from Google receiving the Lollipop update. Back in 2012, it had very good specifications, especially for the price tag it had.
Also Read: How To Install Official 5.0 Lollipop Update Nexus 5 & Nexus 7
The tablet has a 7.0″ LCD display with resolution of 800 x 1280, 1 GB RAM, 8 & 16 & 32 GB of memory storage and the once powerful Tegra 3 chipset with ULP Geforce.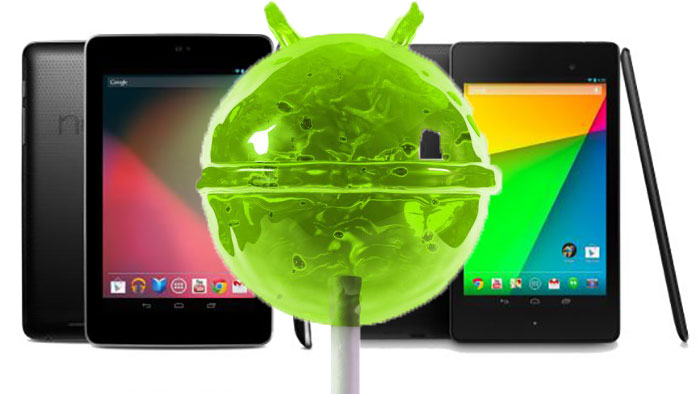 Google announced the tablet with Android 4.1 Jelly Bean and eventually updated it to 4.2, 4.3 and then 4.4 KitKat. But no one expected that it would also receive the 5.0 Lollipop update.
A leaked factory image signed by Google means that the tablet will receive the update. Signed by Google means that the image is the real deal created by Google itself.
If you have  been waiting for a long time to enjoy 5.0 Lollipop update with Material Design features, now it is your chance to install it on your Nexus 7 (2012).
How to install Android 5.0 Lollipop LRX21P factory image on the Nexus 7 (2012)
Download LRX21P factory image.
Connect your phone to your computer and boot into Fastboot mode.
If the bootloader is locked. execute the following command using ADB tool [quote_box_center]fastboot oem unlock[/quote_box_center]
Extract the image and execute the flash-all script. This will install the bootloader and new operating system.
Also Read: Buy Nexus 7 (2013) Tablet For Cheap $100
Once you have done this, it is a good idea to lock the bootloader for security purposes. To lock the bootloader, execute "fastboot oem lock" and you are done.