LG G3's water resistant capabilities have been tested even though it isn't considered as a water-resistant phone. At least that's what LG says. But can it handle a two-hour submerge under water and still work perfectly fine? That's exactly what has happened.
A user from YouTube used his own LG G3 and tested its water-resistant capabilities. He put the phone underwater even though the LG G3 doesn't have any IP certification. Words aside, the user filled the sink with water and put the phone inside not for 5 minutes, not for 30 minutes, not for one hour but for exactly two hours.
Also Read: How To Remove/Freeze Bloatware On The LG G3
And the phone would have stayed submerged even for a longer time if the camera and the MicroSD card wouldn't have started to overheat. The LG G3 was working perfectly fine once it got out of the water. Even though it was working without any problems, there was water inside the back cover.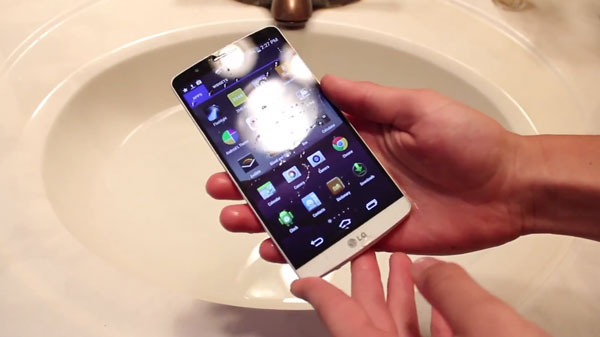 This means that LG G3 is indeed not water-resistant because that water under the back cover can easily go to the most important components of the phone and destroy them. But until now, the tester says that the LG G3 is working fine and no problems have appeared.
Also Read: How To Restore (Unbrick) Your LG G3 Back To Stock
This means that the LG G3 can handle a little rain but putting it under water isn't the best idea. Also, the LG G3 will soon be available for pre-order. If you want to buy LG's flagship device check this page out.