Leaked Samsung Galaxy S5 Mini pictures and specifications are out and there is only one thing to say: It is a smaller Galaxy S5. Nowadays, it is a tradition for biggest Android manufactures to release a mini version of their flagship device. HTC has already released the mini version of the One M8 whereas there is still no official word about the mini version of the Galaxy S5.
Even though there is no official confirmation from Samsung, leaks and rumors never stop being published. This time, you can see a picture of a device of what might be the original Galaxy S5 Mini. As seen in the picture, it has the same back cover pattern as its big brother, the same heart rate sensor, finger print scanner as well as waterproofing capabilities thanks to the rubber part under the back cover.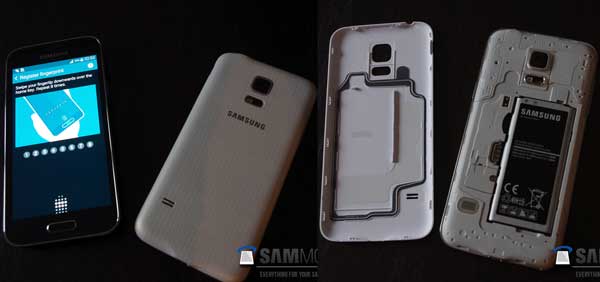 One thing is that the charging port cover, which is an important thing when it comes to waterproofing, is missing. This is a sign that either the S5 Mini won't be water-resistant or that Samsung has found a way to prevent water from coming in the charging port without a plastic cover.
As for the specifications, the Galaxy S5 Mini will have a 4.5″ HD Super Amoled display, 1.5 GB RAM, 8 MP camera and either Snapdragon 400 processor or Exynos Quad Core processor clocked at 1.4 GHz along Mali-400 GPU. Check out Sammobile page for a full detailed information about the upcoming Galaxy S5 Mini.