The Samsung Galaxy Note 4 is one of the best smartphones Samsung has ever created. It is the first flagship device to come with a steel frame. In fact, it is not the first Samsung smartphone to have an aluminum frame. The Galaxy Alpha also has the same materials but it isn't a flagship like the Note 4.
If you don't know the specifications of the Galaxy Note 4, it has a beautiful and sharp 5.7″ QHD Super AMOLED display with resolution of 1440 x 2560 pixels, 3 GB RAM, 16 MP rear camera with OIS optical image stabilization and wide 3.7 MP front-facing camera, Snapdragon 805 chipset with Adreno 330 GPU (SM-N910S) or Exynos 5433 chipset with Mali-T760 GPU (SM-N910C).
Also Read: Experience Galaxy Note 4 Features With Experience App
No matter which variant you choose, one thing is certain. The performance is going to be excellent. No lags, no frame drops or app crashes. But since the Galaxy Note 4 has such a fast processor and dense screen, the battery life should be bad.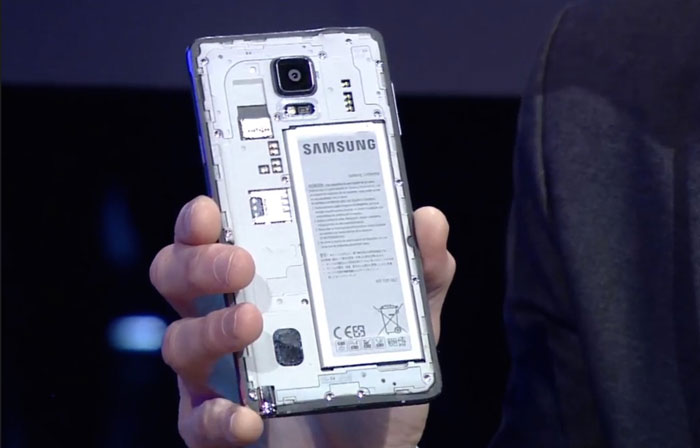 The Galaxy Note 4 doesn't have a much bigger battery. It has a 3,220 mAh battery which is only 20 mAh bigger than the Note 3. Theoretically this means the battery life should be the same or worse compared against the Note 3, since the battery is the same size and the processor is faster.
If you are also thinking how the battery life of the Samsung Galaxy Note 4 is, the battery test is here and has you covered. Every time a new phone gets released, it has become a habit to do different tests like drop test, torture test, performance test and battery test.
The battery test consists on running a script that replicates real-life usage such as phone calling, browsing the web and playing games. At the end of the text, the Galaxy Note 4 managed to get 8 hours and 43 minutes.
That's the best score a QHD phone has ever received. In comparison, the LG G3 got 6h 15min, the Oppo Find 7 only got 4h 30min and its predecessor got 6h 8 min.
Also Read: Samsung Galaxy Note 4 Bends Too As Shown On Video
This makes it the phone with best battery life after the Xperia Z3 and Ascend Mate7. Speaking of charging, the Note 4 takes just 95 minutes to charge. The Galaxy S5 takes 122 minutes and the LG G3 takes 120 minutes.