New iPhone 6 body units are being leaked everyday and one thing is for sure: Apple is going big and thin. We have seen a lot of photos of the upcoming iPhone 6 but we have seen only the device. This time, the alleged iPhone 6 body gets compared side by side with the Samsung Galaxy S5 and iPhone 5S.
When the device is compared with the GS5, you can see that the Samsung device is not as big as it is used to be in front of an Apple device. The iPhone is just a little bit shorter and smaller than  the GS5. This means that the display will be bigger. Based on previous leaks, it is going to have a 4.5-4.7″ big display.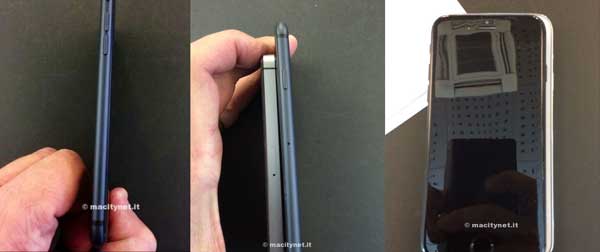 Eve though it is bigger and wider, it doesn't mean that it is thicker. The iPhone 6, when compared to the iPhone 5S, is definitely thinner, a lot thinner. Remember that fake iPhone 6 case that was launched a week ago. It seems like it is the real deal.
The power button has moved from the top and now is on the right side and the body design is different. Instead of the sharp edges we are used to see, the fake iPhone 6 has rounder edges and now it looks like a iPod Touch 5th Generation. The new iPhone is going to be released somewhere between September and October. Do you think these photos are real?