Here's what we know so far about the iPhone 6 specifications and design. The iPhone 6 is always getting more and more hype and it seems like it doesn't have any intention to stop anytime soon. We have already seen a lot of rendered and fake iPhone 6 body units.
If you are interested, watch the iPhone 6 dummy unit compared with a Galaxy S5 and iPhone 5 (link), see how the next Apple flagship device is going to have no bezels at all (link) and also read three things the iPhone must have to compete with Android high-end devices (link)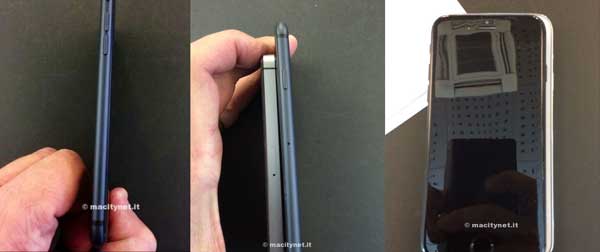 The iPhone 6 is expected to have a crazy thin body. Recent leaks say that the device will not be thicker than 6mm. Even though having a thin devices good, unfortunately the battery will also be small in order to fit in that slim body. Apparently, Apple has left the sharp edges of previous iPhones and it is going with rounded edges taking design cues from the iPod Touch 5th Generation.
It will have a 4.7″ display, a big size change over the iPhone 5S. It is nt known though whether Apple is going to keep the Retina display or move to a better and higher resolution displays. Th CPU is going to be Apple's A8  64Bit dual or quad-core processor for the ultimate performance. RAM is expected to be 2 GB even though it might be only 1 GB.
The device is going to get released between September and November so there will be a lot more leaks, news and new information for the upcoming Apple device.