The current iPhone 5S has a front screen with very thin bezels on the side. However, bezels on the bottom and on the top are still very big which don't allow a bigger screen to fit on the same form factor. Would you like a front screen with non-existent side bezels and greatly reduced bezels on the top and on the bottom?
The iPhone 6 might have this kind of screen. New photos of what may be the new front panel of the upcoming Apple smartphone have been leaked. On the photo you can see three front panels, two of which are panels of the previous iPhones, respectively the iPhone 4S and the larger iPhone 5s. The right one however, is the same size as the middle one but with one big change: the bezels are a lot thinner.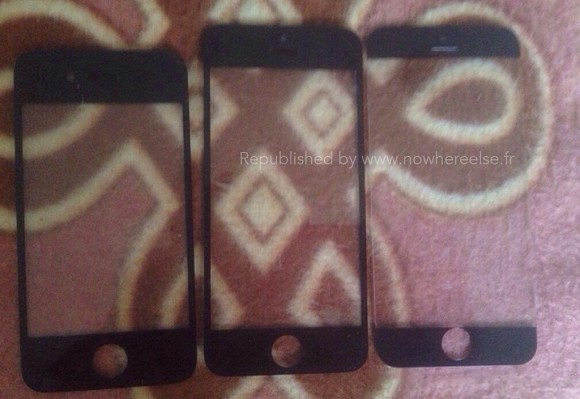 On the sides of the panel there are no visible bezels at all whereas the bezels on the top and the bottom seem to be a lot thinner. This might be an early prototype from Apple that might have slipped and taken from someone else who published it. The photo seems legit and not edited.
Though, there are some things to take note. This panel might be as well as the front screen of the iPhone 5s. The person who took the photo might have easily scrapped off the black paint from the sides making the panel look like a new one. This answer is especially raised when you look at the bottom of the phone.
You can see that the hole for the home button is not perfectly aligned and it is higher than it should be. This might be a manufacturing defect when it got produced or the person didn't properly scratch the phone.
Nonetheless, a bigger iPhone is always welcomed and a 4.5" – 5" would be perfect. The panel on the photo seems like it can accommodate only a bigger 4.3″ screen though. Keep in mind that this is only a leaked picture and nowhere near official.