iPhone and iPad users who are trying to update their devices to iOS 8 are facing with a problem that it is affecting many people. The update rolled out a few days ago and can be installed through OTA. But when users press the Download button the following error message shows up:
This update cannot be installed because it requires at least 5.7 GB of storage.
You can make more storage available by deleting items in Usage Items.
Also Read: How To Install & Switch To iOS 8 Third-Party Keyboards
The update requires 5.7 GB of free space on an iPhone 5s. On other devices like iPad it requires even more. Users have reported that it needs at least 6 GB of free space to download and install. This is a weird problem because the OTA page says the update is only 900 MB to 1.1 GB big in size so there is no reason to need more free space.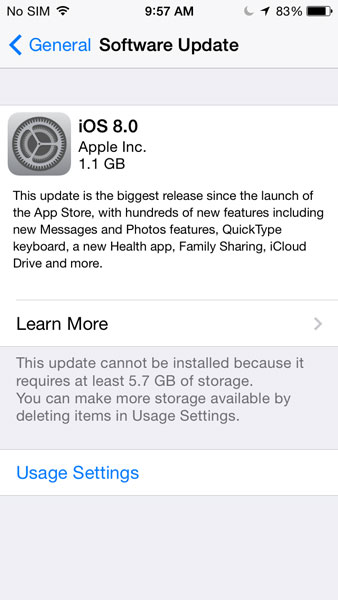 Apparently, there is no easy fix to this problem. The easiest thing to do is to delete photos, videos and music files you don't want to make space for the update. But you can install the new iOS 8 update without having to delete and losing important data.
To do so, you need to back up your photos and videos. The easiest way is through iCloud which will back up the most important files. You can choose what to back up and what not. Once you have backed up everything important on your phone, restore it to make it brand new.
Also Read: How To Back Up Your Phone Before Updating To iOS 8
Restoring it will delete everything stored inside the internal memory so there will be enough free space to download iOS 8. Then, you can either go to Settings or iTunes and download and install the new iOS 8 version.