"What's New" is a new and interesting application presented on the Sony Xperia Z2. "What's New" basically works the same way as Google Now. It shows you the latest and most popular games, movies, books, music and Playstation games, hence the name "What's New".
This app works like Google Now because once it is installed, it integrates with Sony's SystemUI file and then can be automatically launched by swiping over the on-screen buttons. For example, to launch Google Now, you can swipe over the on-screen buttons to open the menu to launch Google Now. Now, along the Google logo there will be a second one, the logo of What's New app.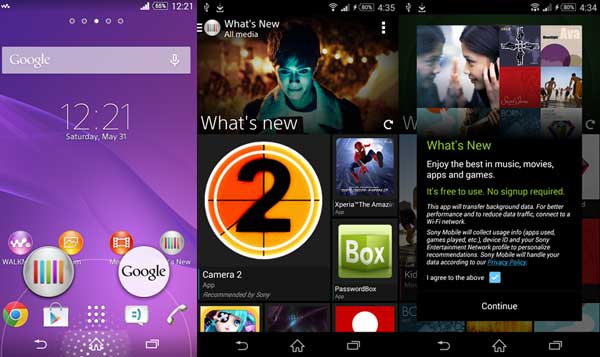 The app which used to be exclusive only to Xperia Z2, now it is available for all rooted Xperia devices with Android 4.1 Jelly Bean or higher. Download Xperia Z2 "What's New" app for rooted Xperia devices here.
Installing the app is quite easy. You need to enable Unknown Sources from the Settings Menu and install the app as a normal APK. You need root access because the new installed app has to integrate with SystemUI file. If there is no root, the app cannot integrate, therefore it will not work.