How to install a custom Recovery on your OnePlus One. The OnePlus One has been a highly requested phone this year because of high-end specifications and the low price. Even though in order to buy one you had to have an invitation, hundreds of thousands of units have been sold.
The OnePlus One comes with Android 4.4.4 KitKat OS version and the firmware is close to stock vanilla Android. Rooting the device is very easy and custom ROMs can be installed in an instant.
Also Read: How To Install MultiROM on OnePlus One & Boot Multiple ROMs
One thing that every smartphone user should do after rooting, is installing a custom Recovery. Yes, root allows you to use applications and programs that require root access but in order to install custom ROMs and mods, you need to install a custom Recovery.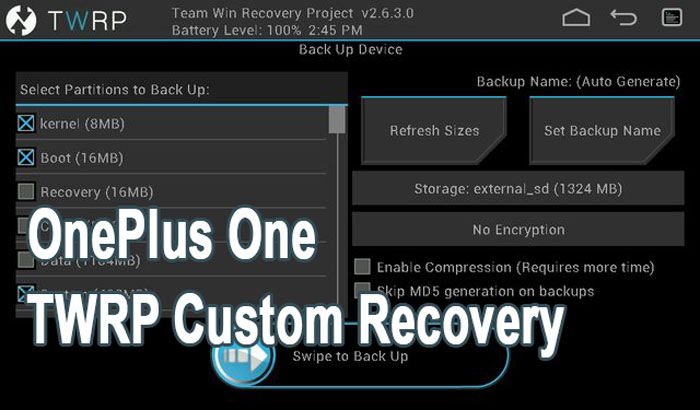 With a stock Recovery you can wipe data, cache and a few more basic things but with a custom one you can wipe data, install ROMs and kernels using zip files and even transfer files using ADB.
There are a few recoveries that you can install on your OnePlus One but the most used is TWRP.
How to install TWRP on OnePlus One:
Download TWRP Manager here.
Open the app and grant root permissions.
Go to Advanced and select Install Recovery.
Also Read: Increase OnePlus One Speaker & Headphones Volume
Once TWRP is installed, turn off your phone and boot into Recovery. From there, you can flash custom ROMs, kernels, mods and transfer files.