Download and install stock AOSP browser on all devices with Android 4.4 KitKat. AOSP browser was a popular application which used to come as a built-in app on Nexus devices and on stock AOSP ROMs. AOSP browser was very fast as it required very little processing power, didn't use a lot of battery life and supported devices with low RAM.
Unfortunately, these days all Nexus devices come with Google's own browser, Google Chrome. Chrome might be the best browser on Windows computers but it isn't the best for all Android devices. Chrome requires a lot of processing power, uses more battery life than AOSP browser and it works very slow on devices with low RAM.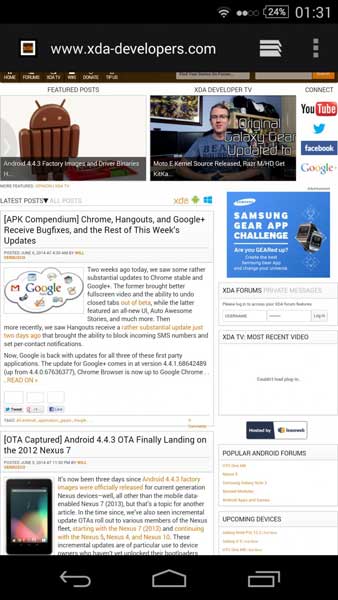 You can find the AOSP browser on custom ROMs like CyanogenMOD and SlimKat. Now, you can get the AOSP browser on your device with KitKat without having to root it or install a custom ROM. Someone was able to port the browser from the OnePlus One firmware to all devices with KitKat and so far, the application works perfectly well.
Download AOSP browser here. Using Root Explorer (The version which doesn't need root access), go to System > Apps and search for a file called  "Browser ProviderProxy.apk". Try to install the APK file as a normal app. The installation process will fail. This is normal. Now install the downloaded APK file. This will install the stock AOSP browser.
Everything works perfectly well apart a few things. Flash player doesn't work and bookmarks do not sync. These are the only problems found at the moment. (Thread)