One of the most requested programs of the Samsung Galaxy S8 and S8 Plus that everyone has been requesting for weeks is finally here. The stock TouchWiz launcher has been released and can be installed on all Samsung phones right now, and the best thing is that no root is required.
The Galaxy S8 comes with Android 7.0 Nougat out of the box. It is similar to the Nougat update that other Samsung phones have received such as Galaxy S7, S6 and Note 5. One of the main differences however is the new TouchWiz launcher.
The Galaxy S8 comes with a brand new redesigned launcher which differs a lot from the stock launcher on the Galaxy S7 and other phones with the Nougat update. The new S8 launcher has no button to go the app drawer. Instead, you need to swipe up to access the app drawer, similarly to the Google Pixel launcher.
How To Install Galaxy S8 Stock TouchWiz Launcher on All Samsung Phones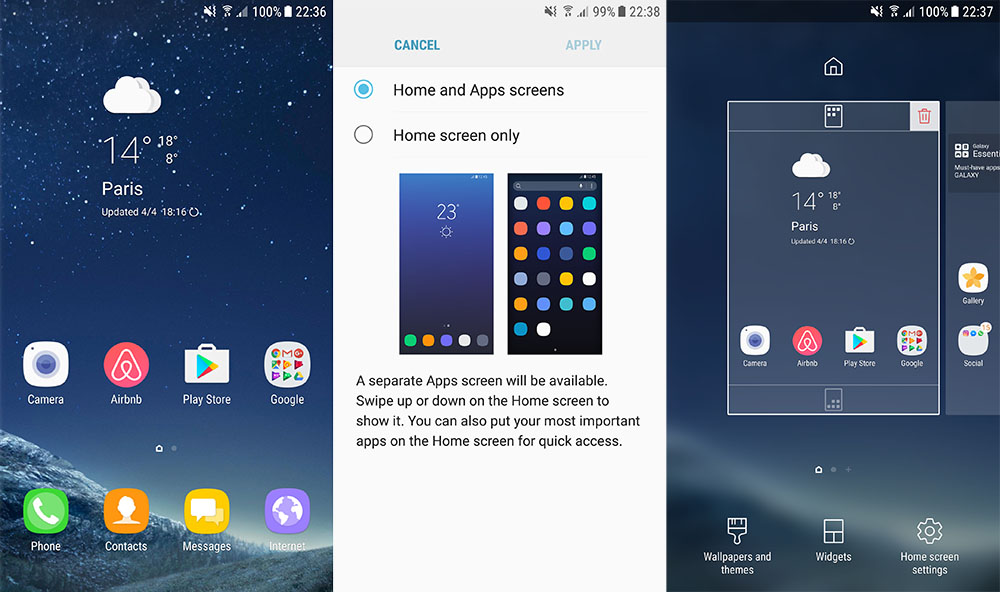 The best thing about the Galaxy S8 launcher is that it comes in APK form. This means users can install it as every other app. More importantly, there is no root required to install the launcher. Gone are the days when you needed root and a custom recovery to install Samsung launchers.
The app can be installed on all Samsung phones with a TouchWiz firmware based on Nougat, Marshmallow and probably even older Android versions.
Download Samsung Galaxy S8 TouchWiz Launcher APK | Nougat 7.0 / Marshmallow 6.0.1
The APK file upgrades your current Samsung TouchWiz launcher. If you don't like the new look or you just want to go back, then you can easily uninstall updates and revert back to your original version of the launcher.
How To Install
Download the APK file from the download link above.
Go to Settings > "Lock screen and security" and enable Unknown Sources.
Install the app.
Now press the home button and you will be greeted with the new look of Samsung's flagship phone. If you experience any issues during the installation process, let us know below. Do you like the new Galaxy S8 launcher or do you like the older versions more?