The Android community is going crazy after the 5.0 Lollipop update. Google announced that it would seed the update to the Nexus 5 and Nexus 7 on November 3rd but because of the battery drain bug, the company had to push it.
But Google still released the third Developer Preview build and the source code of Lollipop and that was enough for developers to create working and functional custom ROMs for various devices.
Also Read: Best 5.0 Lollipop Material Design Wallpapers (Compilation)
We have already published tutorials about how to install Android 5.0 Lollipop AOSP custom ROMs on the Nexus 4, Samsung Galaxy S3 mini and Galaxy Nexus.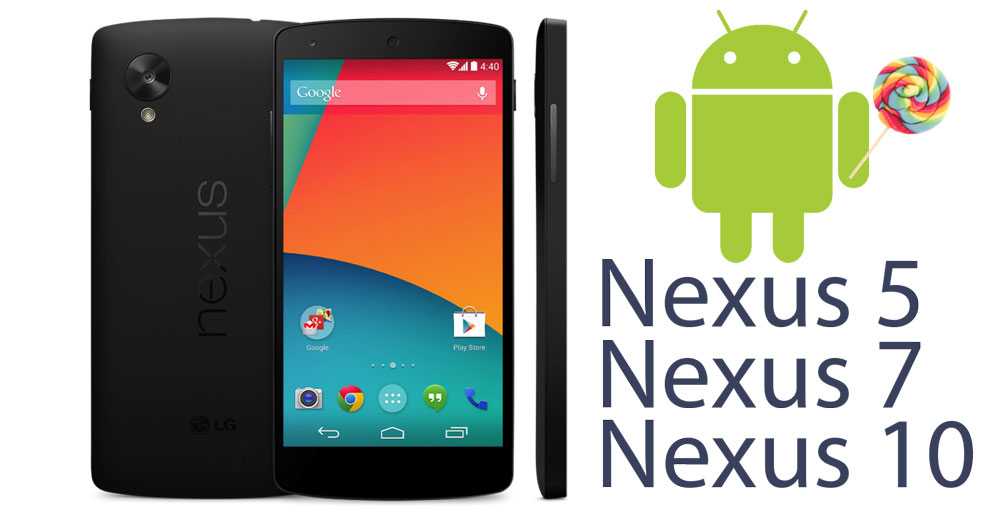 This time, it is time only for Nexus devices to receive a functional build. Not only the Nexus 5 and Nexus 7, but even the good old tablet, the Nexus 10 has received a working 5.0 ROM.
Of course, these ROMs are not fully stable and have some problems and bugs. But most of features work without any problems.
Nexus 5
Even though the Nexus 5 has pretty much a stable build of Lollipop thanks to Developer Preview images, it doesn't hurt to have a custom ROM too.
Download Nexus 5 Android 5.0 Lollipop ROM: link
Extract the zip file. In order to install it, you need to use Fastboot.
Open CMD
Type "fastboot flash system system.img"
Type "fastboot flash userdata userdata.img"
Type "fastboot flash boot boot.img"
Type "fastboot flash recovery recovery.img"
Type "fastboot flash cache cache.img"
Type "fastboot reboot"
Nexus 7 (2012)
Nexus 7 (2012)is Google's old tablet released 2 years ago. It is still a good tablet for normal users. And now, you can enjoy Material design on it.
Download Nexus 7 5.0 Lollipop ROM: link
Nexus 10
Nexus 10, released together with the Nexus 4 is a tablet that everyone loves, even though it is more than 2 years old. It has a fast chipset and high-resolution screen.
Download Nexus 10 Lollipop ROM: link
Also Read: Android 5.0 Lollipop Launcher, Apps, Keyboard APK, Wallpapers, Fonts, System Download and Install
Again, you need to be in Fastboot mode in order to install the ROM. Type the following commands:
Fastboot erase boot
Fastboot erase system
Fastboot erase recovery
Fastboot erase cache
Fastboot flash boot boot.img
Fastboot flash system system.img
Fastboot flash recovery recovery.img
Fastboot flash cache cache.img
Even though it has not been confirmed yet, looks like Android 4.4 KitKat GAPPS work fine on Lollipop.