Android 5.0 Lollipop is the latest version of the OS from Google. It has introduced some neat features and new settings that many users appreciate. In fact, it is the most feature-filled mobile platform out of all. Some features that are worth to be mentioned are better performance, completely redesigned user interface and longer battery lifespan thanks to system optimizations that prevent apps from running on the background all the time. Another feature that has caught our eye is the "multi-user" option. Multi-User allows the owner of the phone to create more than one profile on the phone.
When you initially setup your phone and log in using your email, then you have noticed that the profile picture of your Google+ account appears on the notification drawer. This is your profile. Thanks to Lollipop, you can create other extra profiles to increase security. Has anyone borrowed your phone to make a phone call or use a certain app? Chances are that the person who borrowed your phone can open other private applications like your social media apps or the contacts list.
Also, if you have ever let your kid use the phone to play games, their curious minds can open other applications that they shouldn't open. In some cases, they can even uninstall important apps and delete private data. If you have ever experienced any of these problems, the "multi-user" feature introduced on Android 5.0 Lollipop is a nice addition to the phone. You can create other accounts which have access only to certain apps that you set. So if you give the phone to your kid, you can quickly enable the second profile which contains only games and nothing else.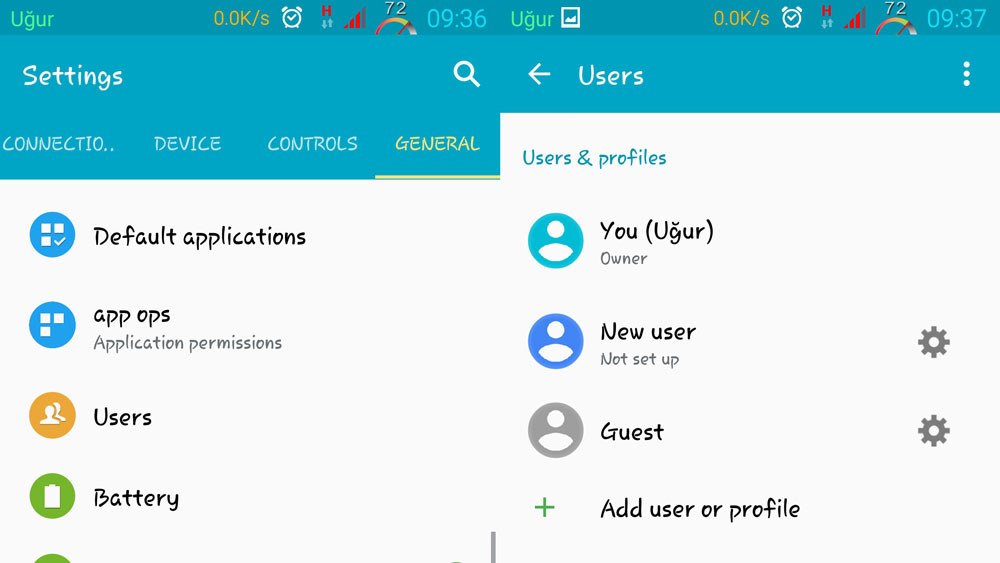 Multi-User feature is available on all phones running on stock Android Lollipop. But customized firmwares of Lollipop like the latest Touchwiz Lollipop ROM, do not have the ability to create more than one profile. The Samsung Galaxy Note 3 has already received the Touchwiz 5.0 Lollipop firmware update. If you have missed that, follow the guide below how to install the firmware on your phone.
If you have already updated, then you might have noticed that the Touchwiz firmware does not offer the option to create multiple profiles. This is annoying considering that many users were excited about the new update. Do not worry though! A member from the XDA forums called "stormy_ugur" has created a mod file which installs and enabled the multi-user feature on the Galaxy Note 3 running on Android 5.0 Lollipop.
The mod currently supports the SM-N9005 variant of the phone. If you are interested in this feature, check out the guide below to install it.
Installing multi-user mod on Galaxy Note 3 Lollipop
The first thing you should to is to download the mod file itself. You can directly download it from here – Mod | Stock
Also make sure that you have a custom recovery installed. If not, follow this guide to download and install one.
Once you have downloaded the mod file and installed the recovery, you have everything you need.
At this point, turn off your Note 3 and boot into recovery by pressing the following keys combination: Volume Up, Home and Power buttons.
In recovery, wipe cache and flash the mod zip file.
Reboot your phone.
Go to settings and under the General category, open "Users"
There it will show the current user as well as the option to add new users.
That is it. Now you can setup multiple users on your Galaxy Note 3 with Lollipop firmware. If for some reason you don't want this feature anymore, you can always flash the stock file which will remove it.