Android 5.0 Lollipop which is seeding to flagship devices in the following days or weeks, brings updated versions of Google applications. The new apps are updated with Material Design and added features.
We have already seen a lot of Google apps APKs get released with Material Design like Google Maps, Wallet, Fit, Keyboard and Play Store. Most of these apps come with 5.0 version number which is the same as Lollipop version.
Also Read: Download Google Maps v9.0 APK With Material Design
Recently, Google announced that it would launch version 5.0 of Calendar on the Play Store in the following weeks. As with other apps, the Google Calendar v5.0 app comes with Material Design and added functionalities.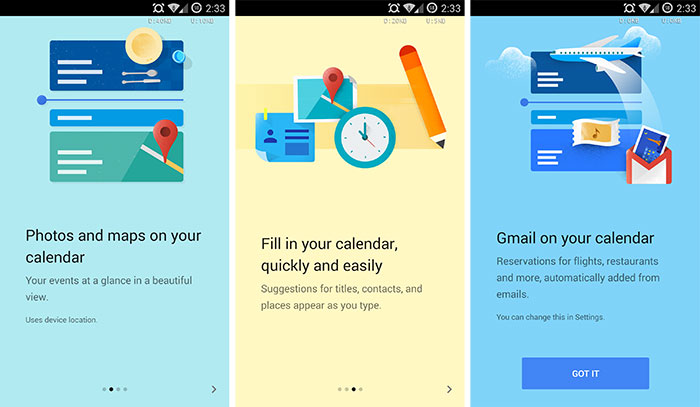 It has a smart schedule layout on the home page, You can see a day or 5 days on the phone and a week or month on tablets. If a phone is in landscape mode, it will show the 'week view' mode.
The schedule layout is smart because it does things automatically. For example, if you receive an email about a meeting or reservation, the event will be added automatically to the calendar. This is very handy especially of you have a lot of meetings and appointees and can't add them all to your calendar.
Google Calendar 5.0 app integrates all your current Gmail events and reminders, so you don't have to add them manually. Google has announced that it will release the app on the Play Store in a few days.
Also Read: Google Earth v8.0 APK Download (Better 3D Experience)
If you can't wait a few days, than you can download the APK file of the app and install it right now. The app has been signed by Google which means it is safe to install.
Download app: com.google.android.calendar-5.0-1554015-2014102731-minAPI15.apk
The app can be installed on all devices with Android version of 4.0.3 Ice Cream Sandwich or later. So even if you have an old device, you can still enjoy Google apps in Material Design.