A lot of users got disappointed when Google announced that it won't be updating the Samsung Galaxy Nexus to Android 4.4.4 KitKat. The Galaxy Nexus is one of the most important smartphones as it was the first device to launch with Android 4.0 Ice Cream Sandwich.
ICS 4.0 was the biggest update of Android that brought a totally new user interface. The launcher was a lot simpler and more intuitive than Gingerbread. ICS was the version that also brought Holo, a beautiful design with visual elements that had blue accents.
Also Read: How To Install Flyme OS ROM on Nexus 5
Even though the Galaxy Nexus was a revolutionary device because it supported time-lapse and was the first device with ICS, Google decided not to make its users happy and give a final 4.4.4 KitKat update.
The reason for this is the chipset. The Galaxy Nexus has a dual core TI OMAP 4460 chipset. Even though the chipset itself is very fast, TI quit the mobile market and didn't continue to update the drivers.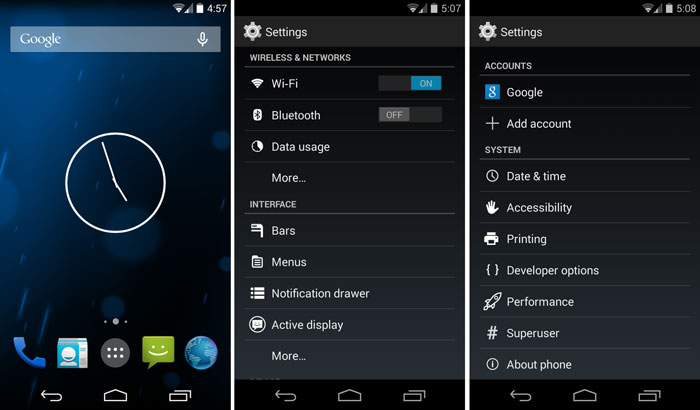 That was the main reason why Google didn't update the phone to the latest version of Android, because of outdated drivers. But a developer on Galaxy Nexus forums created a custom ROM base on Android 4.4.4 KitKat which has the latest GPU drivers.
The ROM is called ForkMyLife and it is one of the best ROMs for the phone. It is highly optimized which means faster and smoother Android, attention to all small details and a unique but stable kernel for the ultimate performance and has complete support for F2FS and EXT4.
Downloads
ForkMyLife ROM: omni-4.4.4-20140705-maguro-FML.zip
Google Apps: gapps-kk-20140606-signed.zip
Guide
1. Press the Power button and turn the phone off.
2. Enter Recovery and wipe data, cache and dalvik cache.
3. Flash the ROM.
4. Flash Google Apps.
5. Reboot your phone.
Also Read: Install Fully Working OnePlus One Camera on Nexus 5
The new FML ROM will make your Samsung Galaxy Nexus a lot faster especially since it is based on Android 4.4.4 KitKat and has the latest GPU drivers.