You thought that only the Nexus 5 and Nexus 7 were going to get the 5.0 Lollipop update? Well you are wrong. While Google has pushed the release date of Lollipop to the Nexus 5 and Nexus 7, other devices have already received it unofficially.
Google released the third build of Developer Preview and source codes of Lollipop a few days ago. This means that users do not have to wait for manufacturers to release the official update. Developers can create their own builds using the source code.
Also Read: Download Galaxy S5 Mini Apps On Galaxy S3 & Note 2
The next device that received an Android 5.0 Lollipop custom ROM is the Samsung Galaxy S3 Mini. Even though the S3 Mini never made it past 4.1 Jelly Bean, the amazing developers made it possible to install not only KikKat but even Lollipop.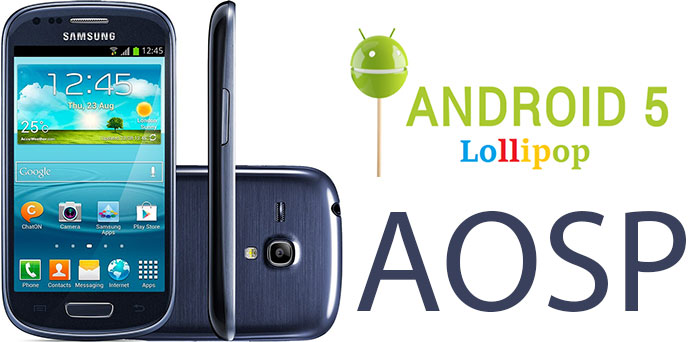 If you are tired of using your Galaxy S3 mini with the old Jelly Bean version, follow the guide below to install Lollipop with Material design goodness on your phone.
Working
Wi-Fi
Bluetooth 4.0
Sensors
Compass
Video Playing
Google Play
Sleep Mode
2D/3D HW Acceleration
MTP
ADB
Not Working
Audio doesn't work including speakers, headphones or microphone
GPS and Glonass do not work
F2FS is not supported yet, only EXT4 filesystem
Camera doesn't work properly
As you can see, the AOSP ROM for the Galaxy S3 mini has some bugs that for some will be a deal breaker. But if you want to enjoy and experience the Material design, then you should definitely give this ROM a go.
Downloads
First of all, download both files and move them to your phone.
Boot to Recovery mode and flash the modified TWRP recovery.
Wipe data, cache and dalvik cache.
Install the ROM zip file.
Also Read: Install Better & Faster Galaxy S3 KitKat Touchwiz Launcher
Select OK and reboot your phone. Wait for a few minutes until the phone boots up. Enjoy Android 5.0 on your Galaxy S3 mini. Do you like the beautiful Material design?