In this article, you will learn a few tips and tricks on how to improve the battery life of your Samsung Galaxy S20 FE. Both the standard S20 FE and S20 FE 5G come with a 4500 mAh battery, which is not the best, considering the phones have powerful processors and high-resolution displays.
Even though the battery life on these devices is not the best, there are a few ways to improve it and make the phones last longer. Maybe you are on a road trip and your power bank is dead, maybe the lights have gone off, or maybe you just want your phone to last a little longer in one charge. No matter the reason, there are a few ways you can improve the battery life of your Samsung Galaxy S20 FE.
How to improve the battery life of the Galaxy S20 FE
Here are a few tips to improve the battery life on your Galaxy S20 FE, S20 FE Plus, and S20 FE Ultra. Please keep in mind that some of these tips require you to lower the performance of the phone, such as lowering the screen resolution, restricting background activities, and more. However, if battery life is what you are going after, these tips will definitely help you achieve that.
1. Enable Dark Mode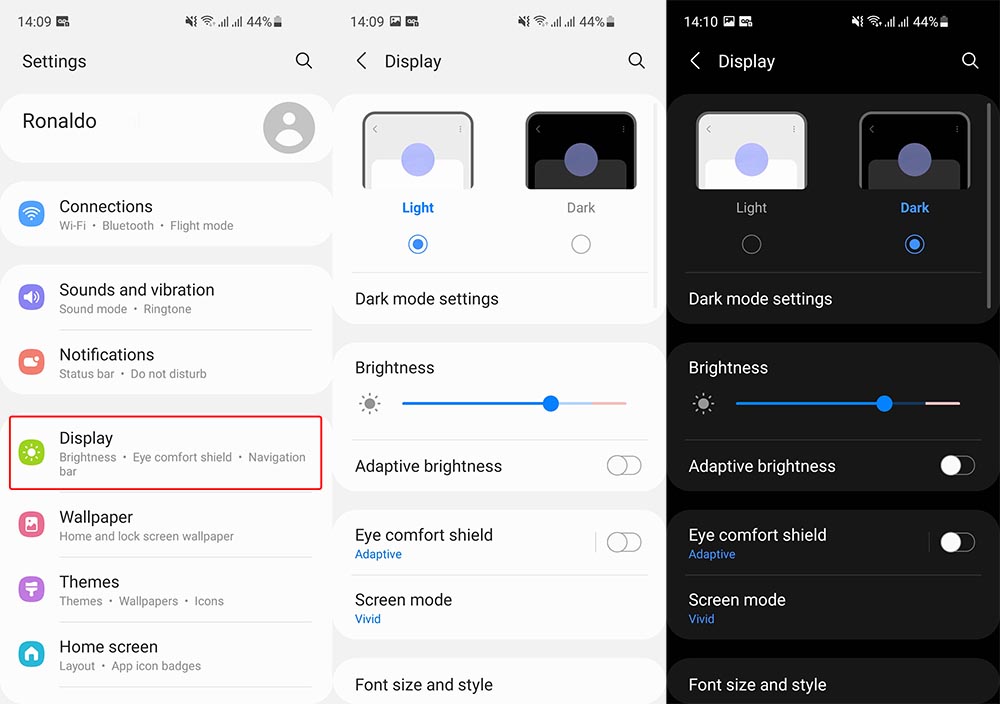 This is the first thing you should do with every phone you purchase, and especially with Galaxy devices. Dark Mode switches the mode of your phone between dark and light. When this mode is on, the background of almost every app is dark.
This has two benefits, not only one. The first benefit is, of course, better battery life. Most phones nowadays, including Galaxy devices, have AMOLED displays. This technology, unlike LCD traditional displays, completely turns off individual pixels on dark backgrounds. This approach saves battery because those disabled pixels do not use any power. Dark Mode makes everything dark, so it helps in saving battery life. Furthermore, dark mode is much easier on the eyes, because there is less blue light being emitted from the screen.
To enable Dark Mode, go to Settings -> Display and tap on the Dark option. Optionally, you can enable this option directly from the navigation drawer.
2. Lower display resolution to FHD+
This tip applies to the Galaxy S20 FE Ultra, which has a WQHD+ display, with a resolution of 1440 x 3200 pixels. You can save a little bit of battery life by changing the screen resolution from WQHD+ down to FHD+. In most cases, the resolution difference is barely noticeable, yet it helps save a little battery life.
To change the screen resolution, go to Settings -> Display. Scroll down and tap on Screen Resolution and change the resolution from WQHD+ to FHD+. If you want to preserve even more battery, you can go all the way down to HD+.
3. Lower the screen refresh rate
All three variants of the Galaxy S20 FE come equipped with a 120 HZ refresh screen. This makes everything feel smoother and noticeably improves the overall experience while navigating the phone.
Furthermore, Samsung includes a feature called Adaptive Refresh Rate, which dynamically switches between 120 Hz and lower refresh rates, in order to conserve battery life. This is a welcomed feature because the screen lowers the refresh rate when 120 Hz is not needed, thus saving battery life without the user noticing.
However, you can take things a step further and change the refresh rate from 120 Hz to 60 Hz. This means the screen will always refresh at 60 Hz, even when the user is scrolling. This means the phone will have to work half as much as before, therefore conserving battery life.  To enable Standard Refresh Rate on your Galaxy S20 FE, go to Settings -> Display -> Motion Smoothness, and switch from Adaptive to Standard.
4. Limit background usage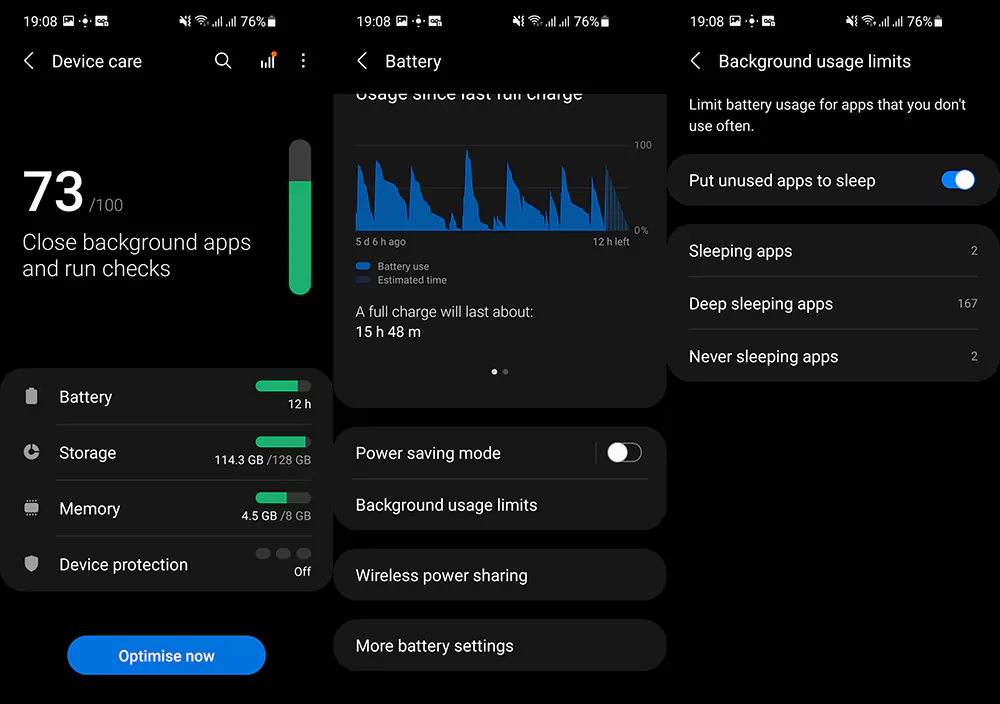 Most probably, you have a number of apps installed on your phone that you barely use. Even though you might not have used an app in weeks, it will still continue running in the background executing different services and draining the battery. This can be fixed by putting these apps to sleep.
Samsung has a nifty feature called "Background usage limits", which essentially puts all unused apps to sleep.  There are three categories of apps: sleeping apps, deep sleeping apps, and never sleeping apps. You can manually add apps to each category if there are apps that are misbehaving.
To put unused apps to sleep, go to Settings -> Battery and device care -> Battery and go to Background usage limits. Tap on the toggle that says "Put unused apps to sleep".
5. Disable 5G and use 4G
The biggest trend right now for smartphone makers is 5G. All the new smartphones being released have 5G capabilities, the Galaxy S20 FE 5G included. While 5G is good and useful when it actually works, most of the time it does not work properly. The phone is capable of 5G speeds, but the telecom infrastructure is not. You need to be close to a 5G antenna to really benefit from 5G speeds.
Most countries in the world are still in the early phases of 5G, and therefore do not have 5G antennas everywhere. In places where this is the case, the phone will try connecting to a distant 5G antenna. This will make the phone struggle because the connection will not be stable due to the distance of the antenna. As a result, the phone will work more to keep a stable connection, and in return will use a lot more battery.
To fix this, you can disable 5G altogether if you are in a place where 5G is not stable. To do so, go to Settings -> Connections -> Mobile Networks and switch from 5G/LTE/3G/2G (auto connect) to LTE/3G/2G (auto connect). This will disable 5G and will ensure the phone will attempt connecting 4G/LTE networks, which are more mature.
Conclusion
These are a few tips and tricks to increase the battery life of your Samsung Galaxy S20 FE. Of course, there are no definite ways to make the battery last longer, but these are methods that you should definitely try. Furthermore, if you have more tips on how to increase the battery life, leave a comment down below.