In this article, you will learn a few tips and tricks on how to improve the battery life of your Samsung Galaxy A72 (5G). Both variants, 4G and 5G come with a very respectable 5000 mAh battery, which should be enough to last throughout the day.
However, sometimes you might need more battery life. Maybe you are on a road trip and your power bank is dead, maybe the lights have gone off, or maybe you just want your phone to last a little longer in one charge. No matter the reason, there are a few ways you can improve the battery life of your Samsung Galaxy A72.
How to improve the battery life of the Galaxy A72
Here are a few tips to improve the battery life of your Galaxy A72. If you are a power user and long-time Android user, you probably know most of these tips. However, most new users will appreciate the tips listed below.
1. Enable Dark Mode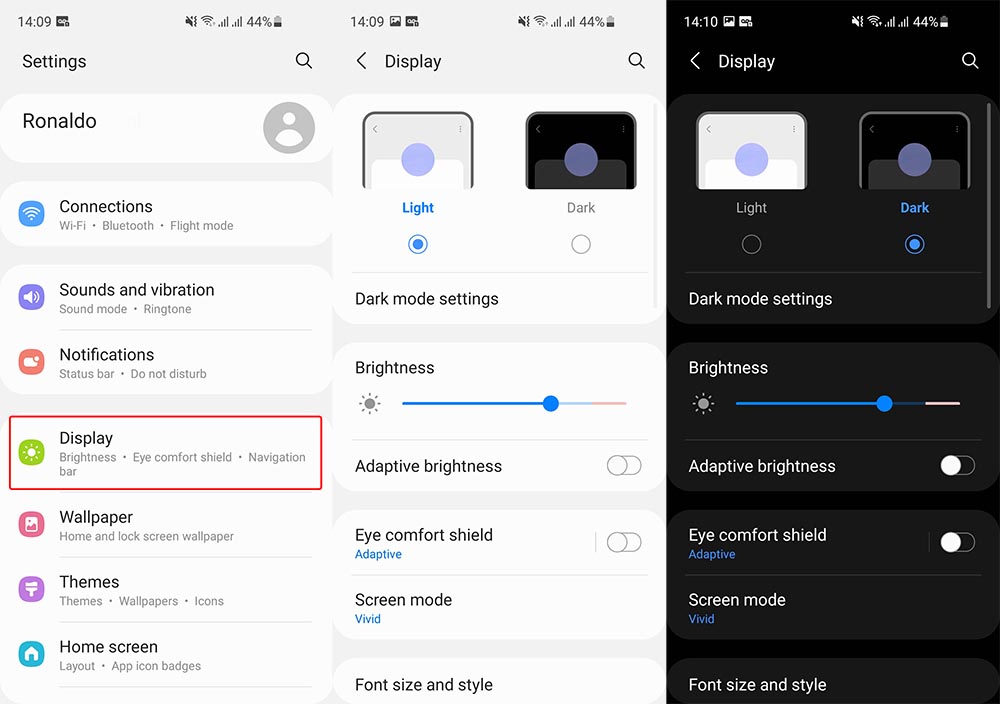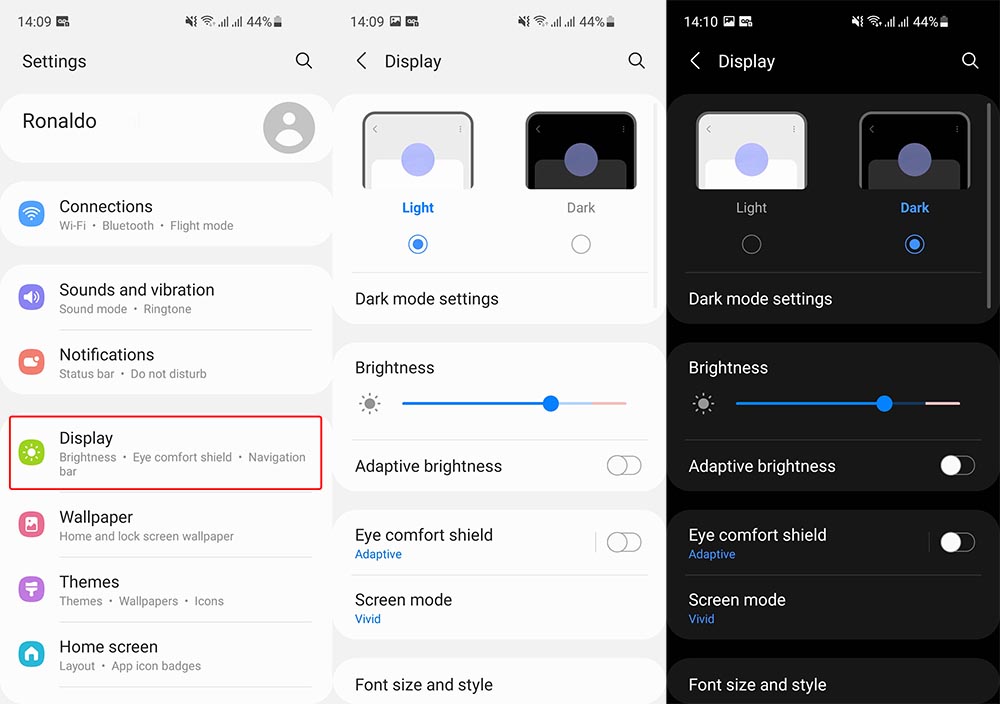 This is the first thing you should do with every phone you purchase, and especially with Galaxy devices. Dark Mode switches the mode of your phone between dark and light. When this mode is on, the background of almost every app is dark.
This has two benefits, not only one. The first benefit is, of course, better battery life. Most phones nowadays, including Galaxy devices, have AMOLED displays. This technology, unlike LCD traditional displays, completely turns off individual pixels on dark backgrounds. This approach saves battery because those disabled pixels do not use any power. Dark mode makes everything dark, so it helps in saving battery life. Furthermore, dark mode is much easier on the eyes, because there is less blue light being emitted from the screen.
To enable Dark Mode, go to Settings -> Display and tap on the Dark option. Optionally, you can enable this option directly from the navigation drawer.
2. Limit background usage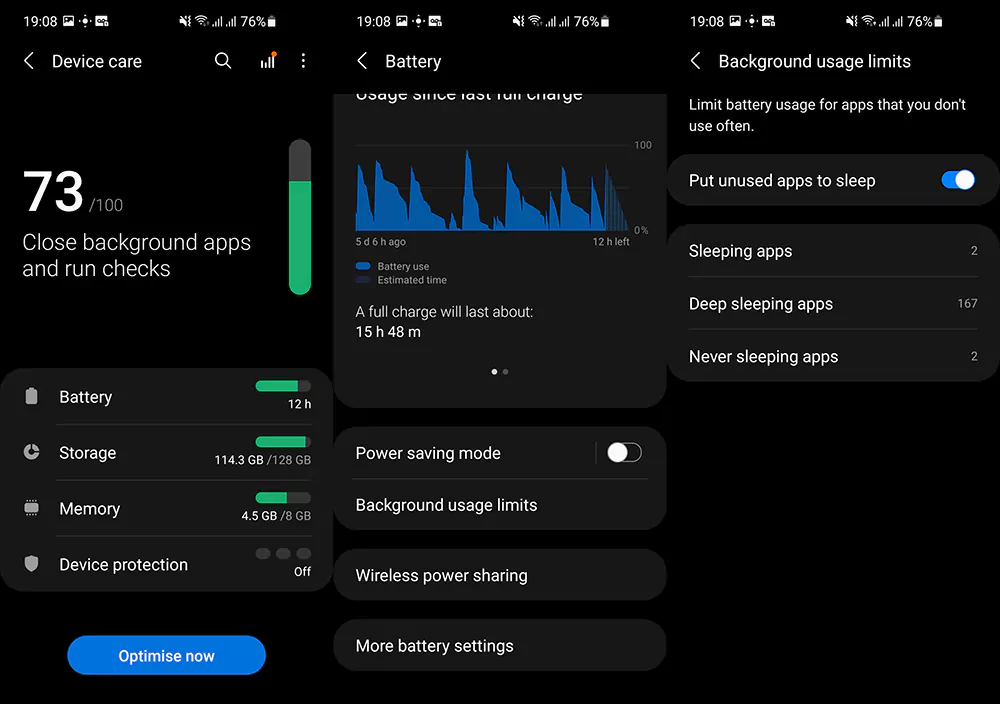 Most probably, you have a number of apps installed on your phone that you barely use. Even though you might not have used an app in weeks, it will still continue running in the background executing different services and draining the battery. This can be fixed by putting these apps to sleep.
Samsung has a nifty feature called "Background usage limits", which essentially puts all unused apps to sleep.  There are three categories of apps: sleeping apps, deep sleeping apps, and never sleeping apps. You can manually add apps to each category if there are apps that are misbehaving.
To put unused apps to sleep, go to Settings -> Battery and device care -> Battery and go to Background usage limits. Tap on the toggle that says "Put unused apps to sleep".
3. Enable Power Saving Mode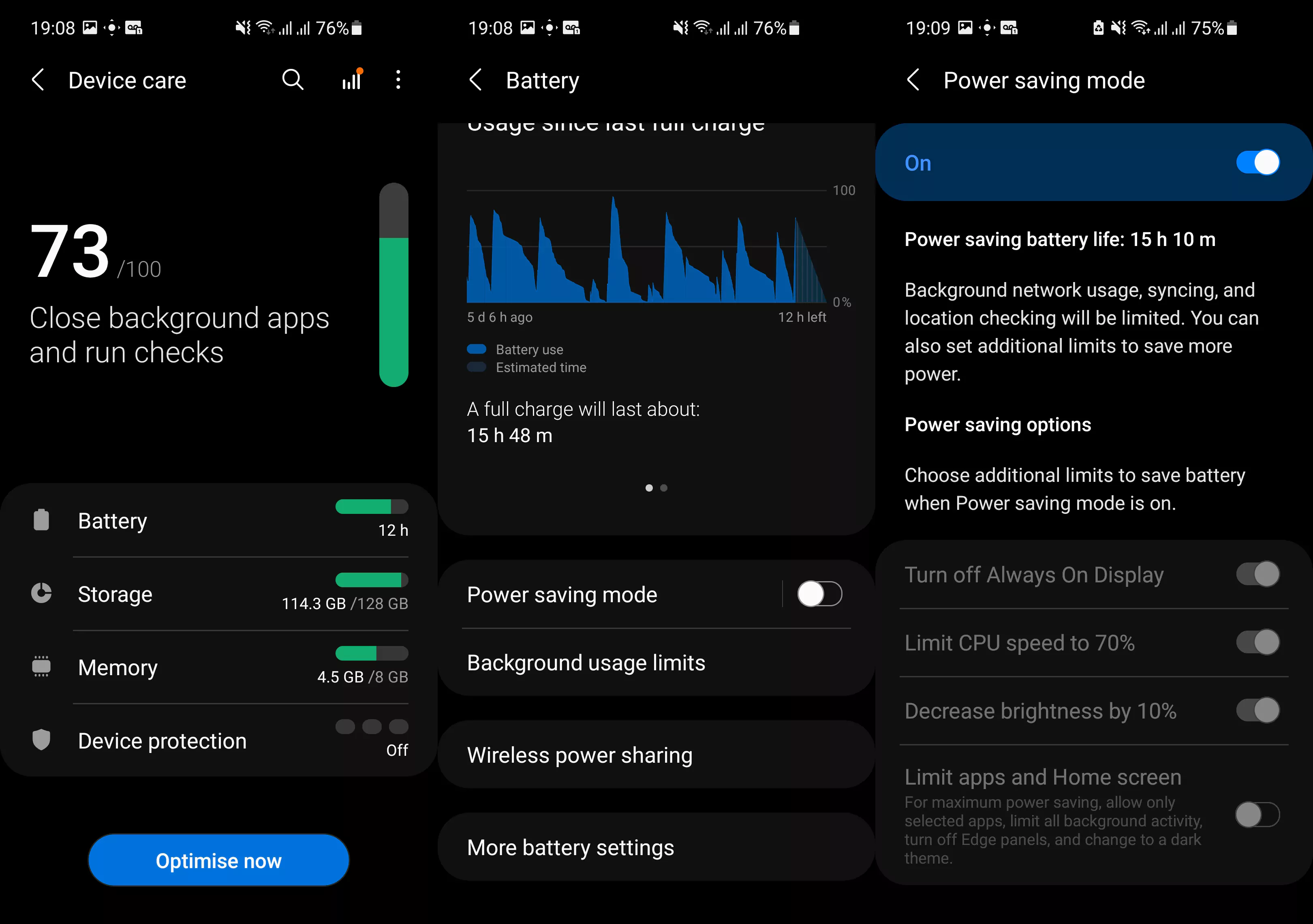 If Dark Mode and limited background usage are not enough, then the next step is to enable Power Saving Mode. Power Saving has improved over the years and is now a reliable method of increasing battery life. You can simply enable this mode directly from the navigation drawer, and you will immediately get a few more hours.
However, you can dive deeper into the settings to maximize battery life even further. First, go to Settings -> Battery and device care -> Battery and tap on Power Saving Mode. Here, tap on the toggle to enable this mode.
There are a few additional options below. To maximize battery life, enable the following options:
Turn off Always On Display
Limit CPU speed to 70%
Decrease brightness by 10%
Please note that limiting the CPU speed to 70% means a decreased performance. However, you should enable it if battery life is more important.
4. Lower the screen refresh rate
The standard Galaxy A72 comes with a 90 Hz refresh rate screen, while the Galaxy A72 5G comes with a 120 Hz refresh screen. A high refresh rate is very useful while scrolling because it makes everything feel buttery smooth. However, this uses more battery since the phone has to work more to refresh the screen faster.
Thankfully, you can easily switch between 90/120Hz and 60Hz, forcing the screen to refresh at 60 Hz, even when the user is scrolling. This means the phone will have to work half as much as before, therefore conserving battery life. To enable 60Hz on your Galaxy A72 (5G), go to Settings -> Display -> Motion Smoothness, and switch from High to Standard.
Conclusion
These are a few tips and tricks to increase the battery life of your Samsung Galaxy A72 (5G). Of course, there are no definite ways to make the battery last longer, but these are methods that you should definitely try. Furthermore, if you have more tips on how to increase the battery life, leave a comment down below.