GSM Arena has done some extensive testing of the S4 battery and the results came in impressive.The Galaxy S4 ranks on top of all three tests – talk time, web browsing and video playback.
With a talk time of almost 14 hours (13 hours 53 minutes), it ranks on par with the HTC One and better than the iPhone 5 and most other Androids (still worse than the RAZR MAXX, though).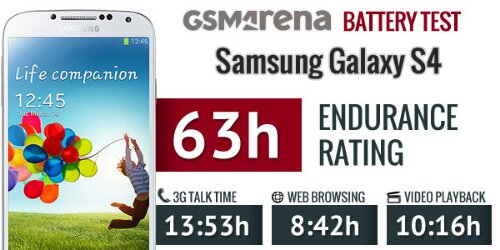 When it comes to its web browsing time, it is also in high ranks with 8 hour and 42 minute longevity, but that puts it slightly behind the leading HTC One and iPhone 5.
For video playback, though, it fares slightly better than its immediate competitors with 10 hours and 16 minutes of longevity.
Overall, this makes for an "endurance rating" of 63 hours, a combined measure of its performance that shows how much the device should last in real life. This means you'd be able to squeeze out almost three full days if you do one hour of calling, web browsing and video watching every day.