The HTC M8 is the fastest smart phone in the planet, surpassing the Samsung Galaxy S5, OPPO Find 7 and the Sony Xperia Z2, or at least that's what scores from the popular benchmarks say. Even though the upcoming HTC flagship device has yet to be launched, it didn't stop it to make a really good performance against its competition.
The HTC M8, which is going to get released tomorrow in the conference, has appeared on Basemark benchmarks, taking the first place on many categories. On Basemark X, which puts the phone's gaming abilities under a test, put the M8 in the first place with a score of 26328. The second place is taken by the Lumia 1520 with 25695 points and in the third lace is Samsung's best phone for this year, the Galaxy S5 with 23501 points. Far behind the first two places.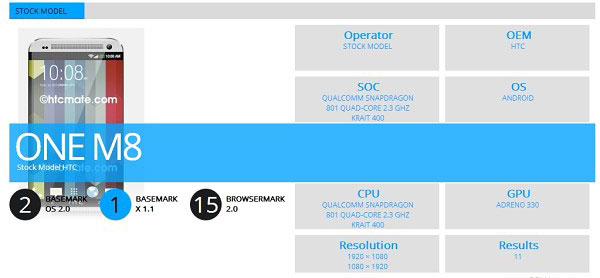 However, the most important benchmark is Basemark OS which shows the best overall smartphones. Again, the M8 is the winner with 1071 points followed by the PadPhone Infinity with 1070 points. The Nexus 5 and iPhone 5S are a lot behind, respectively 4th place with  1034 points and 5th place with 1019 points.
The weird part here is that even though the M8 is the fastest smart phone, the benchmark says that the it has a Snapdragon 801 processor clocked at 2.3 GHZ and not clocked at 2.5 GHz like the Galaxy S5 or Xperia Z2. Maybe this is a sign of a well optimized skin and operating system.
If you want, go here to visit the benchmark site yourself and compare all devices with each other and to see the ranking of different phones and tablets.