The Nexus 6 is an excellent device without any doubts. Google made sure that everything about the phone is great including the fast processor, sharp QHD 5.9″ screen, big battery and the latest version of Android.
Everyone who buys the Nexus 6 will be a happy buyer for months, if not years. Google support which grants the phone the latest Android updates, makes the Nexus 6 future proof as far as software updates are concerned.
Also Read: How To Enable Double Tap to Wake on Nexus 6
Software updates are not the only reason why the Nexus 6 is a great phone. It is also one of the most supported phones in the developer community. Developers creates a plethora of custom ROMs, kernels, mods, themes and other software modifications for the Nexus 6.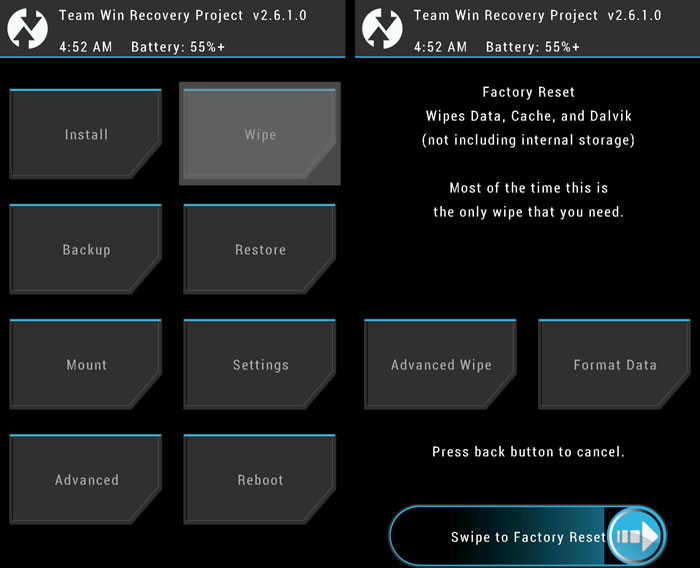 The huge support comes as a result of the source code being released for all developers. In this article, we are going to show how you can wipe and factory reset your Nexus 6.
Since the phone is so popular, you might have at least once installed a custom ROM. ROMs are a great way of unleashing the full potential of the Nexus 6 as they offer endless possibilities when it comes to customizing.
Then, at one point, you had to install another ROM or flash a factory image. No matter who you do, you must always perform a factory reset.
If you don't wipe your phone, it will get stuck in a bootloop and you will not be able to turn it on. This why you always have to make a factory reset every time you flash a new ROM or factory image. If the Android version is different, you have to format the /data folder too.
Wiping and performing a factory reset on the Nexus 6
Backup
A factory reset will delete everything on your phone so make sure you make a proper backup. Follow our guides below:
Custom Recovery
Now that you have made a backup and all your files are safe, you need to install a custom Recovery. There are a few recoveries but it is recommended to install TWRP.
Now that you have installed a custom Recovery, you can continue with the guide below.
Turn your phone off and go to Recovery. To do so, press and hold the Volume Up and Power buttons at the same time.
Guide

If you are using CWM, select Wipe data/factory reset and then Wipe Cache. Go to Advanced and wipe Dalvik Cache. Select Mounts and Storage and format /system
If you are using TWRP, select Wipe, Factory Reset and wipe.

Reboot your phone.
Also Read: Google Nexus 6 Water Test (Video)
If you are switching from different Android versions, for example from Android 5.0 to 5.x, you also need to format /data. Note that this will delete all data in your phone so a backup is highly recommended.