The Samsung Galaxy S6 comes with a brand new redesigned user interface and noticeably slimmed down TouchWiz firmware. Samsung has listened to the community, making the Samsung Galaxy S6 faster by removing all the unneccessary features that slowed the phone down. The gallery app now launches instantaneously. Previously, it would take a couple of seconds for the gallery to load and even then, scrolling through pictures was a pain because of the lag.
The Samsung Galaxy S6 doesn't suffer from these problems anymore. It is safe to say that the Galaxy S6 is Samsung's first flagship phone to rival Nexus devices when it comes to user interface and performance. While Samsung has gotten rid of unused settings, it has improved those features that users actually use, one of them being Multi Window.
You probably know what Multi Window is. It is a software option that makes it possible to open more than one application at the same time. This has been around on Samsung devices for a few years now. The Samsung Galaxy S6 comes with another Multi Window feature called Pop-Up View. When Pop-Up View is enabled, you can resize the window of a certain application. For example, if you are watching videos on YouTube, activate Pop-Up View mode and the app window will get resized to a smaller window.
Activate Galaxy S6 Multi-Window Feature
This is the most basic feature. To enable Multi Window on your Samsung Galaxy S6, unlock the phone and go to the home screen. Long press the "Recent Apps" key, located on the left side of the home button. You will be greeted with a list of applications that you can use. Choose the first app and then the second one. Both applications will launch, taking half of the screen each.
Activate Galaxy S6 Pop-Up View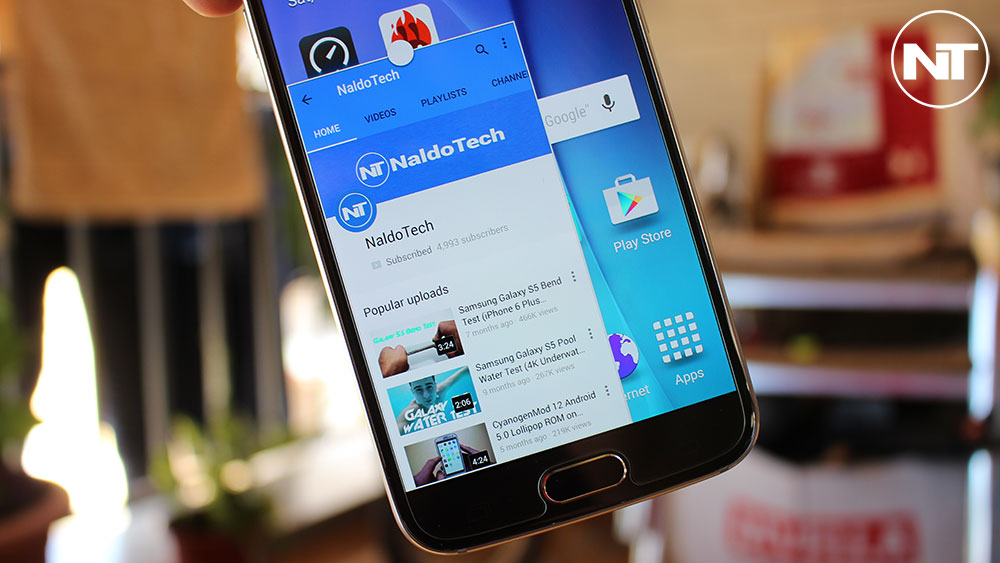 This has proven to be a more useful feature. Pop-Up View allows you to change the window size of an application. You can have up to five applications running at the same time and when you don't need them, they turn into small floating bubbles.
To activate Pop-Up View, launch an application and scroll diagonally from the upper right corner of the display. Scroll diagonally until you see two blue lines, indicating the size of the window. Once the window has been resized, you can move it around and add other applications.