How to use Facebook messages without downloading and installing Messenger app. Facebook has done something that many people are not liking, you have to use Messenger to message. Previously, you could send a message to your Facebook friend by opening the Facebook application, taping the messaging icon and then selecting the friend and writing the message.
Facebook has a messaging app called Messenger. This app has a simple function which is messaging. It doesn't have any special options from the main Facebook messaging section besides chat heads which are small bubbles that appear every time you receive a message.
Also Read: How To Fix & Repair Corrupted Videos Android
This way you don't have to open the main application. You can reply directly from the pop up instead. Until now, installing the Messenger app was optional. You could install it but you weren't forced to do so. Now, you have to download and install the Messenger app if you want to message on Facebook.
This means that if you now go to the messaging section on the main Facebook application, a warning will pop up saying that the Messenger app should be installed in order to have messaging capabilities. So you are no longer able to text from the main app.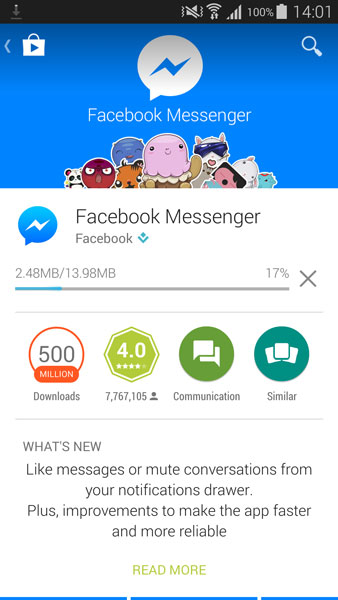 While this might sound good for some, a lot of people aren't liking the new change at all. Messenger app ratings on the Play Store and App Store are full with one star reviews. But there are a few ways to text again from the main Facebook app.
How to send text messages from the Facebook app without downloading, installing and using the Messenger app.
1.  Go the messaging section on Facebook and click download Messenger.
2. The store will open. Click the download button and wait until the app has been downloaded 30%.
3.  Click the cancel button and then close the Facebook app.
4. Open the app again and now you will be able to text again. Basically, the app has been tricked and thinks that the Messenger app has been installed.
This method doesn't always work. You need to try a few times before making it work. This method works on iOS and Android devices. Another simple solution for Android devices is create a blank file which will make Facebook think that the messaging app has been installed.
1. If you have Messenger app installed, uninstall it.
2. Download the file here and install it a normal application.
Also Read: How To Make Auto Correct Better And Prevent Bad Suggestions
Now you will be able to use Facebook messages without Messenger. The app you installed is empty. It is just a file to trick Facebook to let you message from the main app.