Update the Moto X and Moto G to latest version of Android, KitKat 4.4.3. This update is available for all Nexus devices like the Nexus 5, 7 (2012 & 2013) and Google Play Edition devices. Now, the first non-Nexus devices to receive the Android 4.4.3 Kitkat update are the Moto X and Moto G.
As we have said before, Android 4.4.3 KitKat brings some new features and improvements like a better camera, redesigned dialer user interface and bug fixes. As always, you can receive the update through OTA (Over The Air). You should go to Settings > About Phone and tap the "Check for Updates" button.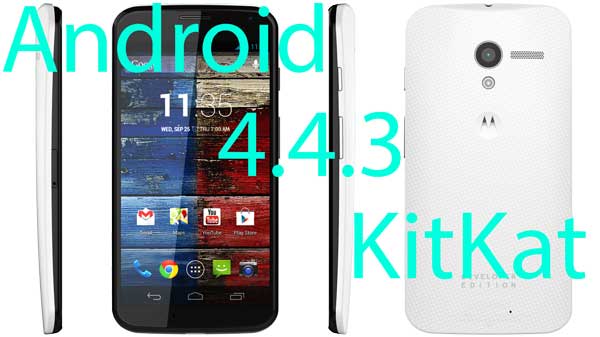 If the OTA has become available for your Moto X or Moto G, you can freely go and update it. However, not all handsets receive the update as the same time. Some devices receive it earlier than some other ones. For those unlucky people who haven't received the OTA update yet, you can get it manually.
OTA updates have been captured for both of the Moto devices, Moto G and Moto X. The update file of the Moto G is 170 mb and the Moto X file is 140 mb. You can install it manually but there are a few things to note. You should be rooted, have a recovery installed and that is it. Other than those you must be stock. No custom ROMs installed and no mods enabled.
Download the update file for Moto G here and Moto X here. Put the file in your phone's internal memory and flash it through Recovery. Then reboot your Moto X or your Moto G and now you will have the new 4.4.3 KitKat version.