Apple has finally released iOS 8.1.1, the update to iOS 8.1 and 8.0. When iOS 8.0 was released a few months ago, everyone was excited to try the new applications and features of the new operating system.
Even though iOS 8 isn't as a big update as iOS 7 was, it still brings a lot of new features like interactive notifications and new battery usage meter.
After a while, Apple released iOS 8.0.1 which was probably the worst update. Users started to complain for everything. They started to experience bad battery life, slower performance and other bugs.
Then, iOS 8.1 was released which fixed all the bugs. Users rushed to update to the latest version and also enjoyed jailbreak thanks to Pangu8 tool.
Also Read: How To Jailbreak iOS 8 & 8.1 Using Pangu8 (Windows & Mac)
Now, Apple has released another update, iOS 8.1.1 and it is time for this iOS version to get jailbroken. It has been a lot easier to jailbreak iOS 8 than iOS 7. If you have updated to iOS 8.1.1, you can jailbreak your iPhone, iPad or iPod using Taig tool.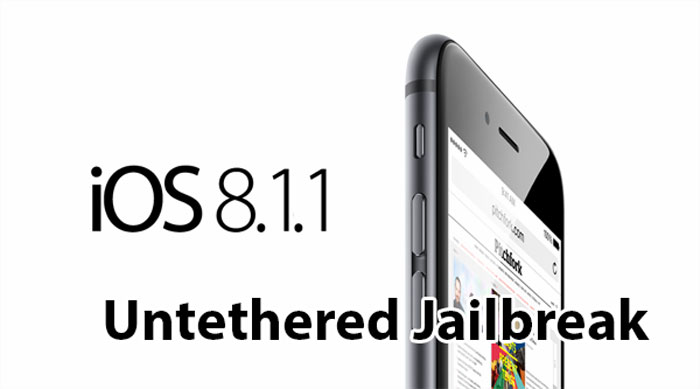 When you jaibreak your iOS device, you open gates to new possibilities and tools to make your phone a lot better. But jailbreak offer features that Android phones have by default. Follow the guide below to jailbreak your phone.
How to untethered jailbreak iOS 8.1.1 using Taig tool
Before starting with the process, be sure to make a full backup of your phone so in case something goes wrong, you can easily revert later. You can back up individual files like photos, videos, contacts or make a full backup using iTunes.
You have to remove your password or Touch ID code and also disable Find My iPhone option, otherwise the tool will not work correctly.
Taig tool is able to untethered jailbreak all devices which support iOS 8.1.1 like iPhone 6 Plus, iPhone 6, iPhone 5S, iPhone 5, iPhone 4s, all variants of iPad to iPad 2 and iPod 5th generation.
Download Taig tool: TaiGJBreak_1010.zip
Launch Taig.
Make sure to tick the first option "Cydia 1.1.16".
Untick second option otherwise an application called Taig will be installed.
Click "Start".
Also Read: How To Deregister (Unlink) Number From iMessage iOS
Wait for the jailbreak process to finish. The phone will reboot a few times during the process. When it is over, Cydia will be installed on your phone.
With Cydia, you will be able to customize your iOS phone. You will be able to install mods, themes and launchers.